​​The Dos and Don'ts for Using Lipstick as Blush
September 30, 2021
Who knew that in 2021 the biggest thing that would happen in the world of blush would be lipstick. Really! The lipstick-as-blush trend has really taken off, especially on social media. When we asked Jay Artistry, a pro makeup artist based in California, about it he said: "People love multi-use products. They love the simplicity of having minimal products to carry." Below, he shares his "dos" and "don'ts" for using lipstick as blush.
What You Should Do
"I would start with minimal product and build up to your liking," he says. "Then dab and blend!" We love L'Oréal Paris Nus by Colour Riche Intense Nude Lipstick in Nu Decadent. It's an intense creamy nude lipstick infused with pure caring oils that can easily be blended into cheeks, yet stay put throughout the day.
What You Shouldn't Do
"Remember, it's blush — soft and rosy, a wash of color," says the makeup artist before adding, "It's not war paint, keep it cute!" He's partial to Jafra's Always Liquid Lip Stain in Always Tender. "It's a weightless, long-lasting lipstick that can stay vibrant all day," he says, "A little on your fingertip to cheek can go a long way."
The Technique
"I suggest smiling, swirling your lipstick on the apples of your cheeks, then using your fingers to warm up and blend the color towards your temples," he says.Looking for a bit more challenging approach to the whole trend? Try beauty vlogger
Roxanne Latulippe
's technique if you dare. She uses a bold red lippie on multiple points on her face and then does a superb blending job. Check out her tutorial
here
and if you do go this route, we suggest using the
YSL Beauty The Slim Velvet Radical Matte Lipstick in Orange Surge (305)
for a fearless flush that's fall-friendly.
Read more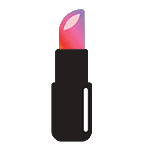 Back to top