55 Square Nail Designs to Use as Inspo for Your Next Manicure
April 04, 2023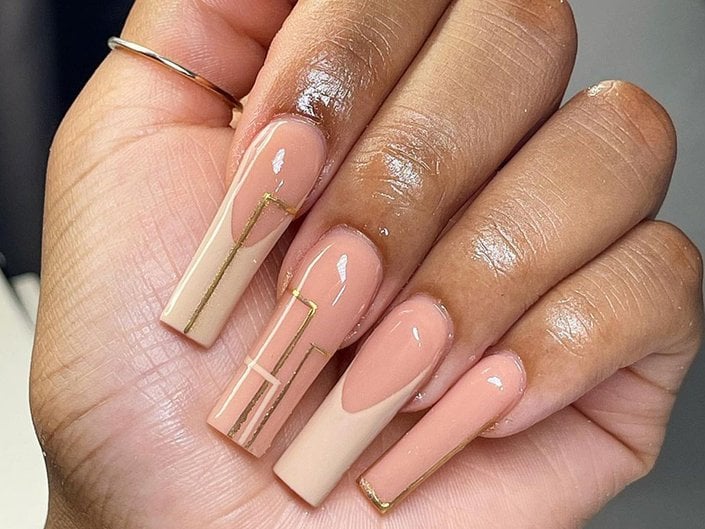 In a world where "ballerina,"
"coffin"
and "claw" are all words used to describe
nail shapes
, "square" can sound pretty basic. It's true that square-shaped nails are a classic, but that doesn't mean they need to be boring. If you're a square nail lover looking to
spice up your manicures
, you've come to the right place. Below, we've rounded up our favorite square nail designs on Instagram to inspire your next nail appointment.
Best Short Square Nail Designs
Kawaii Square Nails
For nails that everyone around you will be squealing with delight over, check out this baby pink, heavily adorned set. The cartoon and bow decals add an extra sweet touch.
Subtle Square Nails
Sheer polish and gold decals are the perfect combo for those who love a minimalist manicure. For a universally flattering nude base, try
Essie Gel Couture in Sheer Silhouette
.
Short Chrome Square Nails
If short nails are your style, you'll love these short chrome Frenchies. They're simple and cute for spring.
Cherry Square Nails
These cherry-on-top French nails are sweet, flirty and playful (plus they're short enough to still let you type on your phone with ease).
Bright Blue Square Nails
A bright, highly saturated blue makes a colorful statement on all skin tones and looks great on long or short square nails.
Squiggly Square Nails
These abstract square shorties look like something out of a cool art gallery. The cat's eye nail polish adds an extra special, reflective touch.
White Glitter Square Nails
You can keep your nails short while still trying a square shape. This milky white set is understated yet pretty.
Lovey-Dovey Square Nails
This adorable manicure has captured our hearts. The design is surprisingly easy to DIY, but if you don't feel confident in your hand-painting skills, pick up some
heart-shaped stickers
instead.
Best Medium Square Nail Designs
Gold Foil Square Nails
These square nails are sprinkled with gold foil for a subtle twinkle against neutral polish.
Mix and Match Square Nails
Can't decide on a single pattern? Go edgy with a mix-and-match set in muted colors.
Multicolored Square Nails
Mix-and-match pastel hues make a graphic pattern and neutral polish more playful.
White Square Nails
Make a fresh white set ultra-girly and glam with sweet pearl and butterfly accents.
Blue Ombré Square Nails
The ombré and flower detailing make these square nails perfect for your next special event. You can even switch up the color palette to match your outfit or accessories.
Star Square Nails
These subtly star-studded nails are a more playful take on your classic white or nude mani. We love them topped with a subtle dusting of chrome powder.
Silver Square Nails
Molten silver squiggles look industrial-chic against pale nude polish, and the short length keeps them from looking overly precious.
Bubble Square Nails
These peachy aura nails get a whimsical twist with transparent bubble accents.
Crocodile Square Nails
The matte finish and charcoal shades give these crocodile square nails a chic, subdued effect.
Lavender Square Nails
You can play with different designs on each nail and still keep the set cohesive by working within the same color palette — we love how fresh and spring-y lavender looks.
Initial Square Nails
Show a little extra love to a special someone with a decal of their initials on your ring finger. We've got plenty more
initial nail art ideas here
.
Pastel Print Square Nails
Embrace color with this bright, multi-patterned set. We love the matte accent nails and the blinged out decals. Polish colors from the limited-edition
Essie Spring 2023 collection
would be perfect for this look.
Ocean Square Nails
These wave-inspired square nails will bring a wash of calm over you with just one glance.
Flame Square Nails
Between the bright blue flames, the purple accents and the subtle pearl finish, what's not to love about these icy-hot square nails?
Smiley Square Nails
These cute chrome smileys will instantly put you in a more cheerful mood. You can pair them with soft pastel shades, as seen here, or contrast them against a dark or neon shade.
Tortoiseshell Square Nails
Tortoiseshell square nails are cute, simple and classy — plus you know they'll go with everything.
Bunny Square Nails
Add a cute detail to a plain pink set with a hand-painted bunny. To recreate the look at home, try painting your nails with
Essie Birthday Girl
as the base, then painting the bunny with a detailing brush and
Essie Blanc
.
Hawaiian Print Square Nails
Get your nails summer-ready with this beachy Aloha print set. A rhinestone on each nail adds a touch of glam.
Square Accent Nails
This set keeps things classic by incorporating French tips, but adds an interesting twist by only having two nails sport the design. Keep your mani looking fresh by regularly applying a cuticle oil — our favorite is the
Essie On a Roll Apricot Cuticle Oil
.
Best Long Square Nail Designs
Chrome French Tip Square Nails
We still can't resist the pull of a chrome manicure, and this pink-tipped chrome set is no exception.
Marble Square Nails
These square nails may look like a solid neutral hue from far away, but upon closer inspection, everyone will be wowed by the elegant marble pattern.
Pastel Square Nails
Welcome spring with open arms with these pastel gradient square nails. To achieve a matte effect at home, swipe on the
Essie Gel Couture Matte Top Coat
.
Aura Square Nails
Aura nails
are one of our favorite colorful nail trends of the year. Clear tips allow multicolored auras to take center stage.
Airbrush Square Nails
Airbrush designs and charms give your square nails a Y2K-inspired flair.
Encapsulated Square Nails
Capture the fresh blooms of spring with this encapsulated, gold-flecked set.
Cloud Square Nails
Sweet pink clouds add a dreamy touch to a classic black French manicure.
Jelly Square Nails
Jelly nails let you experiment with bright, neon shades and glitter polishes in a translucent finish.
Pink Square Nails
Can't pick just one shade of pink? We get the struggle — go for an ombré vibe instead with tones of bubblegum and fuchsia. We love
Essie In Our Domain
.
Zebra Square Nails
We're obsessed with the scene-kid vibes of these black and teal zebra print nails, which bring us straight back to the early 2010s.
Zodiac Square Nails
Celebrate your sign loud and proud by decorating your nails with a zodiac-themed decal.
Y2K Square Nails
It doesn't get more early 2000s than a chunky French manicure, a little bunny-shaped bling and of course, some leopard print accent nails.
Swirl Square Nails
Deep brown and white swirls are the perfect mix of sophisticated and eclectic. They're simple but far from being boring.
Cherry Blossom Square Nails
These cherry blossom-inspired nails are seriously adorable. They'll bring the spring vibes no matter what season you're in.
Neutral Square Nails
Alternating hues and mix of matte and shiny finishes give this neutral mani an unexpected flair.
Checkerboard Square Nails
A pale pink and red checkerboard pattern looks cute and kitschy paired with chunky, decorative decals.
Blue and White Square Nails
Blue chrome offers a bold contrast against stark white polish. This set looks especially cool accented with blue or silver rings.
Pierced Square Nails
Nail piercings are a cool and edgy way to spice up a regular manicure. If you're worried about them getting caught on things as you move your hands, go for shorter barbells that aren't dangly.
Purple Chrome Square Nails
This eggplant purple chrome set is giving sultry-cyborg-glam in the best possible way.
Bejeweled Flower Square Nails
Don't be afraid to get a little extra with these multicolored, bedazzled flower nails. The more alternative shades, the more mood-boosting your manicure will be.
Strawberry Square Nails
Tiny strawberries and daisies make these square nails sugary sweet, while the extra long length ups the glamour factor.
Mixed Print Square Nails
When you don't know what design to do, do all of them! These square nails with various colorful printed tips are anything but basic.
Black Square Nails
Go gothic-glam with this hardcore black and chrome set. Make the mani your own with personalized silver decals.
Earth Tone Square Nails
A mix of earth tones and chrome detailing makes a cool, subtle statement on these square nails.
Glitter Square Nails
A glittery French mani is fun and playful, plus you can choose any shade of glitter you like to make this set your own.
Ombré French Tip Square Nails
A vibrant ombré with a French tip design combines two nail art ideas we love in one. Stick to this fiery orange or choose any eye-catching shade you desire.
Geometric Square Nails
The squares and overlapping outlines play off of the square shape here. Plus, we love the pops of gold.
Additional reporting by Ariel Wodarcyk
Read more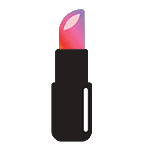 Back to top