Yellow Nail Polish Is The Cutest Way to Brighten Up Your Nails This Summer
May 11, 2023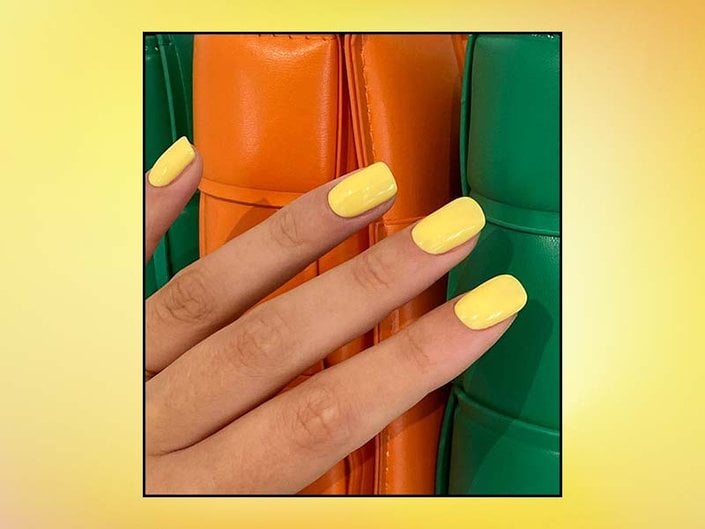 As much as we love classic red, pink and nude manicures, nothing perks up our mood quite like a swipe of yellow nail polish. Reminiscent of sunshine, lemonade and blossoming flowers, the bright, playful color just so happens to be perfect for the spring and summer months. Plus, it's having a major moment right now, with tons of celebs rocking different shades and variations of the trendy look. Whether you opt for muted mustard, mellow buttery hues or glowing neons, it's easy to find a shade of yellow that matches your aesthetic. Keep scrolling for our favorite yellow nail polishes to shop now, as well as some adorable Instagram nail inspiration.
Our Favorite Yellow Nail Polishes
From Essie's summer 2023 collection, Sunshine Be Mine is a blindingly bright sunshine yellow with white undertones. Like, it's so bright, you may need sunglasses to look directly at your nails. We love how this polish pops on every skin tone and reminds us of the vibrant crayon-box colors of our childhood.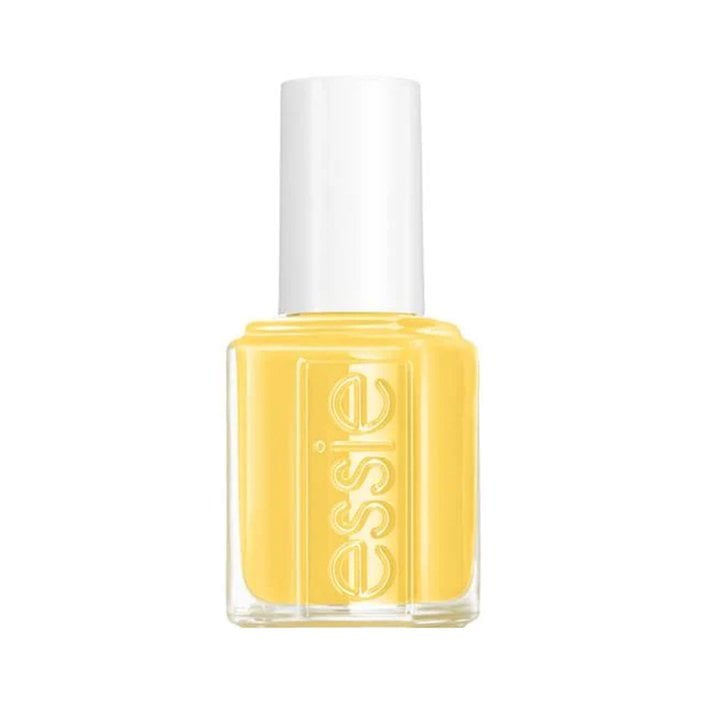 Essie Gel Couture Atelier at the Bay is a buttery cream-yellow for when you want a more neutral, muted take on the yellow nail trend. This sophisticated and subtle shade is a great option if you have any weddings coming up this summer.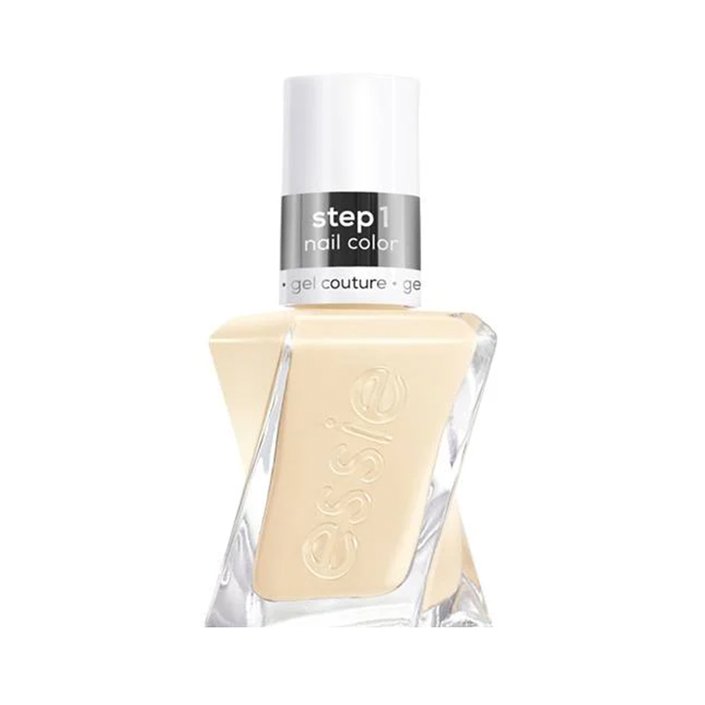 If you're into pastel nail polish, you'll adore this faded yellow option from Essie. It's lighter than Sunshine Be Mine, but it still packs a bright, pigmented punch. We don't know about you, but the banana yellow hue has us craving an ice cream sundae.
For an edgier yellow look, check out JINsoon Charme. The muted lemon shade feels grown up and modern, while the lime undertones add an unexpected funky flair. It's as refreshing as a citrusy summer cocktail.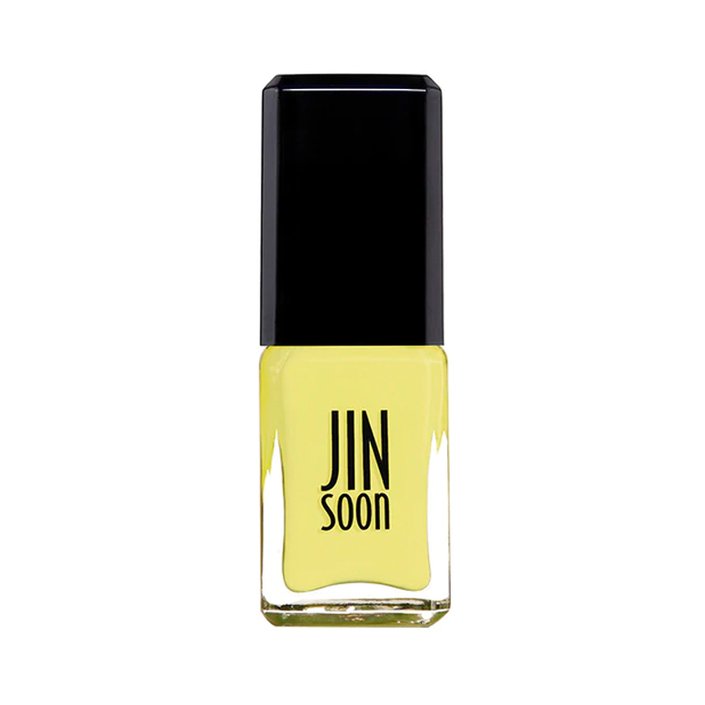 Neon nails? Sign us up. This sheer, vibrant shade from Ella + Mila gives you that neon, highlighter yellow glow when you layer it over a base of white nail polish.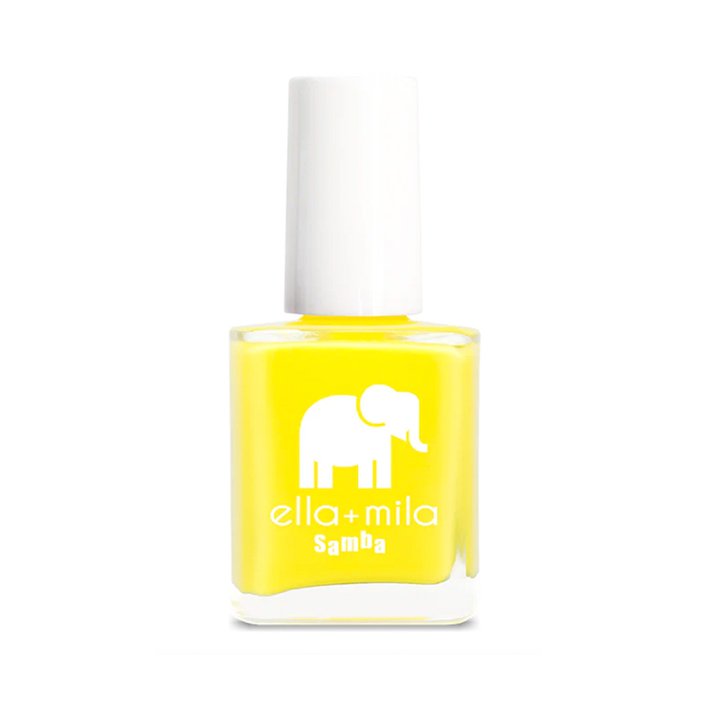 Yellow Nail Polish Design Ideas
Chic and Simple
For a simple set that turns heads, try a poppy yellow shade all over the nail. We love Essie Expressie in Curbside Pick Me Up for its buttery color and quick-drying formula.
Neon French Tips
Not ready to commit to a full neon mani? Bright French tips contrasting with a nude base are a great way to add a pop of color.
Fierce Flames
If you like to sport super long acrylics, you should recreate these fierce, yellow flame-adorned claws at your next trip to the salon.
Smiley Faces
Cute and classic smiley faces are such an adorable way to rock yellow nail polish. In this photo, mini smileys are painted onto a neutral background, allowing the design to steal the spotlight.
Flowers
Dainty, pretty flowers are such a stunning way to embrace the yellow nail polish trend. We're obsessed with how this nail artist paired darker yellow flowers with lighter French tips and a clear base.
Yellow With a Confetti Accent Nail
How fun are these yellow and rainbow confetti nails? It would be impossible not to smile every time you look down at this manicure. We like this playful design idea for short nail lengths.
Lemons
We absolutely love
fruit-inspired nail art
for summer, and it doesn't get much cuter or seasonally appropriate than lemons. Pair your lemon mani with a nice cold glass of lemonade.
Banana Swirl
Linework nails are still huge, and yellow accents make this set pop. Swap white for another shade of yellow to amp up the vibrancy on this look.
Read more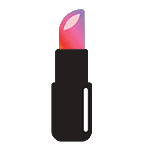 Back to top