How To Build A Fragrance Wardrobe
April 05, 2017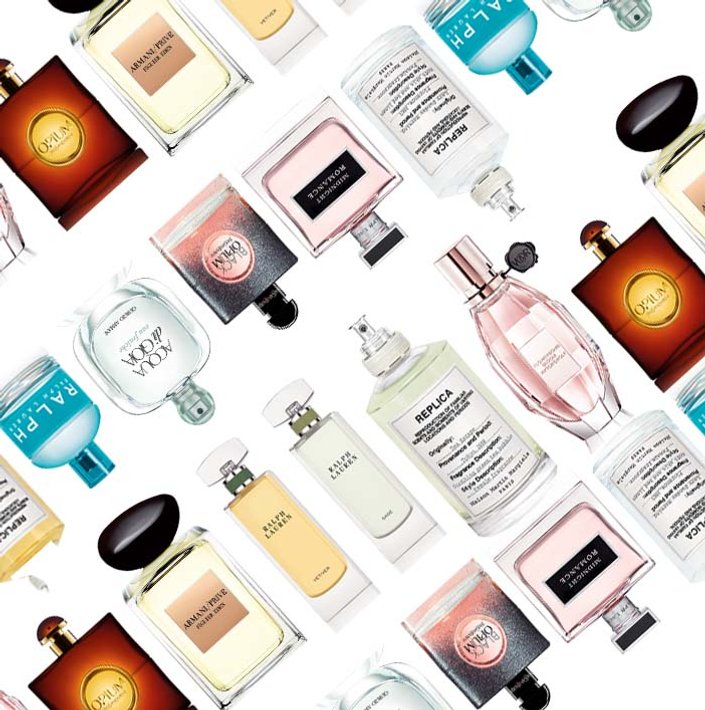 Every woman needs three fragrances that make sense no matter what life throws her way. Whether you're snuggling, working, or partying, we've got the formula to find just the right fragrances for you.
Years ago, choosing a signature fragrance seemed like a terribly chic thing to do. Times have changed, and unless you're Coco Chanel, sticking exclusively to one scent translates to being dangerously close to falling into a fragrance rut. Even worse—maybe you're still wearing the perfume your junior high boyfriend gave you because just the thought of testing perfume after perfume is enough to give you a migraine. Bottom line: It's time to go shopping and make wearing fragrance as fun as playing dress up.
Before you start hyperventilating over the thought of permanently breaking up with your one and only, don't despair: choosing a new fragrance doesn't mean throwing out your favorite and going in a totally different direction (just like no one expects you to go from a girl who lives in denim and wool, to sequins and hot pants). The new way to mix it up—and actually end up with scents that won't sit there untouched for years— is by mixing a few new notes into your old favorites to create new aromas for every occasion.
"A perfect fragrance wardrobe is much like a regular wardrobe. You need different fragrances for occasions that are casual, sexy, or professional – just like you need different outfits," explains Laurent Le Guernec, senior perfumer at International Fragrance and Flavors (IFF). "Your base scent should be something you are very conformable with, something familiar—just like clothes, start with the basics and then work your way towards taking more risks or incorporating more daring elements."
Don't have an old standby and not sure where to start? Check out our checklist to quickly figure out your starting point. Once you find the basic note of your fragrance wardrobe, we'll give you the perfect add-ins for relaxed daytime (think brunch with friends or binge-watching your fave show with your bae)—The Flat; the evening scent for a glam event or date night—The Stiletto; and the scent that works for work—The Pump.
Find your Fragrance
We'd never suggest that every element of you could be lumped into one category—and then bottled in to a perfume. But… who doesn't love a grown-up version of a decoder ring when it comes to figuring out which fragrance family you most likely belong to? Sarah Horowitz-Thran, cofounder of Original Scent, a company that creates custom fragrances, helped us link what you might be sipping, wearing—even when you're sleeping—to what you might like sniffing. Of course, it's not an exact science, but find the category that sounds most like you and you'll be on your way to smelling sweeter (or more exotic… or woodsier).
You're a floral girl if:
· Your favorite season is spring.
· You love coming home to the smell of a floral arrangement.
· Your signature drink is a lychee martini or mai tai.
· You'd never choose to live somewhere rainy (the sunnier the better).
· You shop for clothes that are bright and flowy (think ruffled, airy maxi-dress).
You're a citrus/fruity girl if:
· You wish it was summer all year long.
· You're the true definition of morning person—as in, you may well be halfway through your daily run when the rest of us are reaching for our first cup of coffee.
· You're happiest inhaling the scent of lemons, grapefruit, and fresh-cut fruit.
· You lean toward clean, natural fabrics like cotton and linen because you love how light and crisp they feel on your body.
· Your signature drink is a green apple martini or limoncello
You're a woodsy/green girl if:
· Forget about the holidays, you're doing the happy dance as soon as fall comes around.
· You want a guy who smells like sandalwood, cedar, and scents that surround you on a hike.
· You'd trade in blingy gemstones for chunky turquoise jewelry any day.
· Your signature drink is Earl Grey tea (and the occasional mojito).
You're an Oriental girl if:
· You love the winter time—no, not for the snow, but the raging fireplace.
· Your ideal bedtime is 2am (with an alarm set for 11am).
· You've been known to put down more than your share of chocolate martinis (or just vodka on the rocks).
· You burn incense or candles that mimic that intense smell.
· You love being surrounded by lush velvet and rich textures (think opulent opium den).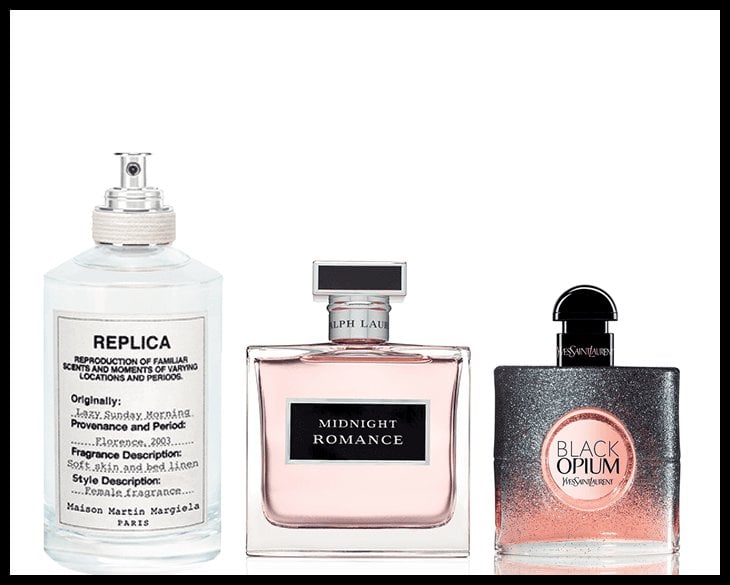 Your FLORAL Fragrance Wardrobe
Flat:
Orange blossom & white musk: This combo is casual, natural, and not at all overwhelming. "The musk gives it a soft, skin-like quality, and the orange blossom is a more subtle, subdued floral," explains Horowitz Thran. Try: Maison Margiela Replica Lazy Sunday Morning Eau de Toilette.
Stiletto:
Peony and black vanilla: Sensual, rich and luxurious, this blend feels just right for when the lights are out. Try: Ralph Lauren Midnight Romance Eau de Parfum.
Pump:
Gardenia and coffee: Work calls for a shot of espresso, but with the clean but powerful, feminine twist of the gardenia flower. Try: YSL Black Opium Floral Shock.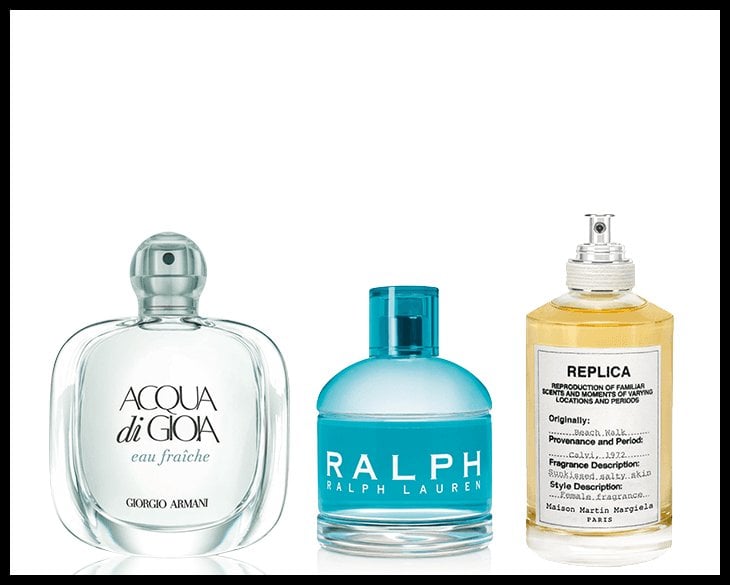 Your CITRUS/FRUITY Fragrance Wardrobe
Flat:
Grapefruit and brown sugar: The ultimate comfort fragrance (think fresh baked cookies), sugar just says "you're home; it's time to relax." It adds sweetness to grapefruit, which can be a bit too crisp and cool on its own. Try: Giorgio Armani Acqua di Gioia Eau Fraîche.
Stiletto:
Orange mandarin and musk: Musk warms up the cool sweetness of mandarin and takes it from a fresh daytime scent to a heady nighttime treat. Try: Ralph Eau de Toilette.
Pump:
Coconut milk and benzoin (almond) plus lemon: The fruity/nutty components are bright, sweet, and fresh, but the lemon adds a sharp, tangy aroma that keeps everything from smelling too sugary. Try: Maison Margiela Replica Beach Walk Eau de Toilette.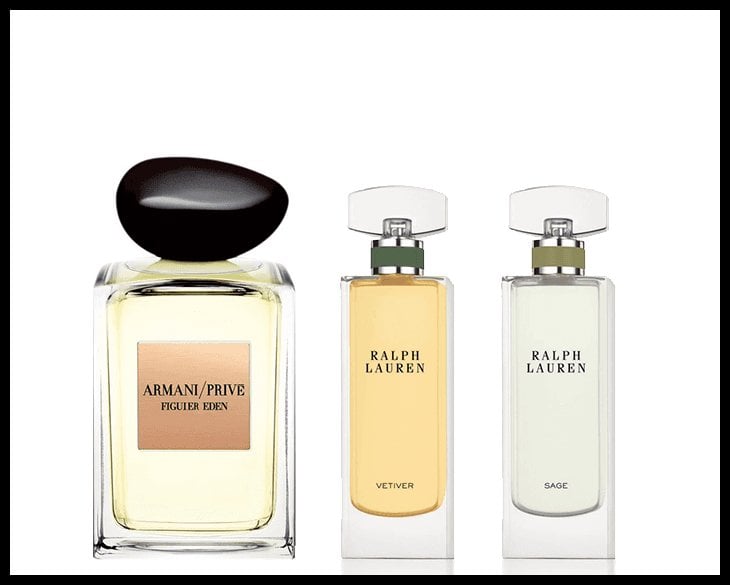 Your WOODSY/GREEN Fragrance Wardrobe
Flat:
Wood, green fig tree and pink pepper: Opposites attract in this blend, as the fig tree's earthiness combines with the warm wood, which also balances spiciness of pepper. The result is a balmy, relaxed scent. Try: Armani Privé Figuier Eden.
Stiletto:
Vetiver plus cardamom: This sophisticated combo shows the green can go undeniably sexy when you spice it up the earthiness. Try: Ralph Lauren Collection Vetiver Eau de Parfum.
Pump:
Green sage, fir balsam and fig: The freshness and rugged woodsiness of balsam and sage takes a sweeter, lighter turn with the addition of fig. The result is a sheer, perfect-for-day fragrance.
Try: Ralph Lauren Collection Sage Eau de Parfum.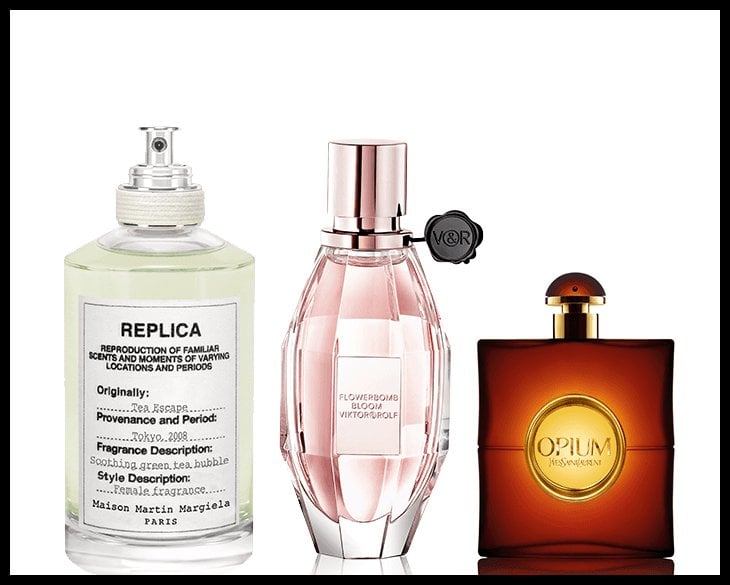 Your ORIENTAL Fragrance Wardrobe
Flat:
Bergamot, green tea and Jasmine: The sparkle of the bergamot lights up the classic Japanese green tea, while jasmine delivers an exotic softness. Try: Maison Margiela Replica Tea Escape Eau De Toilette.
Stiletto:
Patchouli plus a floral bouquet: Patchouli is powerfully sensual (as in hot, not warm) and smells lush and deep. Add in the femininity of a floral, and it takes it to the next level. Try: Viktor + Rolf Flowerbomb Bloom Eau de Toilette.
Pump:
Myrrh, coriander and Lily of the Valley: This deep, fleshy combination is womanly, spicy, very truly Oriental. "This is the fragrance version of a power suit—strong, classic, womanly," says Horowitz Thran. Try: YSL Opium Eau de Toilette.
Read more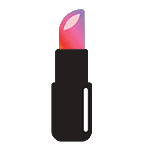 Back to top