Your Favorite Chubby Shadow Stick Is Back — in Highlighter Form
June 27, 2023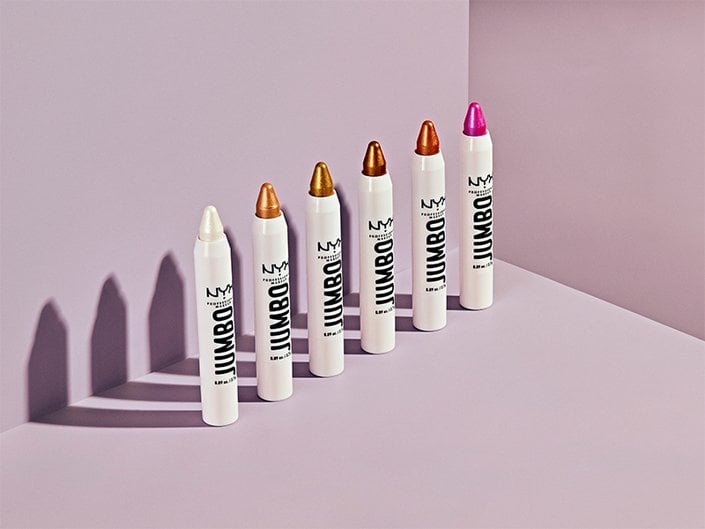 Anyone who's an active member of BeautyTok knows that the NYX Professional Makeup Jumbo Eye Pencil, particularly the shade Milk, took the app by storm as a fast and easy way to highlight your face. And while we love the eye pencils, we couldn't help but hope that NYX Professional Makeup would take the sticks' chubby, easy-to-use format and transform them into highlighters. This year, our prayers were answered in the form of the new Jumbo Multi-Use Highlighter Sticks. Available in six shades that range from sun-kissed coppers to a frosty white and an iridescent-looking lilac, the new pencils have a smooth, pearly consistency, a twist-up design and a crayon-like shape that makes highlighting simpler than ever. You can use the new face sticks to highlight the tops of your cheeks, your cupid's bow, the center of your nose and your brow bone for a little extra glow. Below, see what every shade looks like on our editors.
Jordan, Associate Editor
I firmly believe that there is no such thing as too much glow when it comes to summer makeup. So it should come as no surprise that highlighter is one of my summer beauty staples, and I especially love blendable cream formulas like the Jumbo Multi-Use Highlighter Stick. I opted for the Coconut Cake shade, a pearlescent rose gold that adds just the right touch of natural-looking shimmer to my tan complexion. The precise pencil tip made it easy to concentrate the product exactly where I wanted it — the tops of my cheekbones, the tip of my nose, along my brow bone and on my cupid's bow. The velvety texture blended effortlessly into my skin with a few taps of my finger, and the final result was dewy and radiant but still subtle.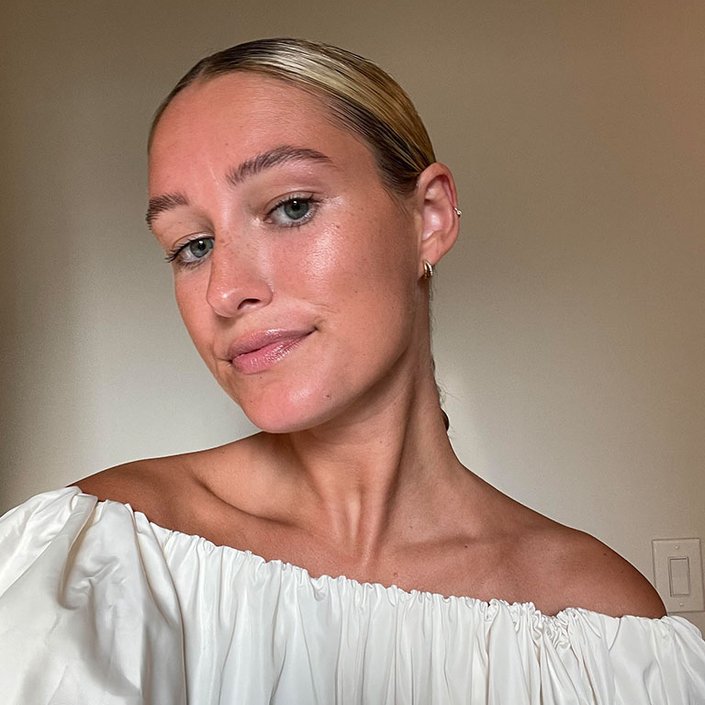 Kat, Social Media Editor
As someone who succumbed to the trend of using the NYX Professional Makeup Jumbo Eye Stick in Milk to highlight, I was so excited to hear that the brand dropped highlighter sticks. I was especially interested in using the shade Flan, which looked like the perfect shade to give my skin a bronze glow. After testing it out for a few weeks, I can confidently say it does the job. In addition to highlighting the high points of my face, I love taking just a bit on my brow bone to make my brown eyes pop. I love the subtle flecks of glitter; they really are the perfect touch to the bronze shade. This shade has officially become a go-to throughout the summer!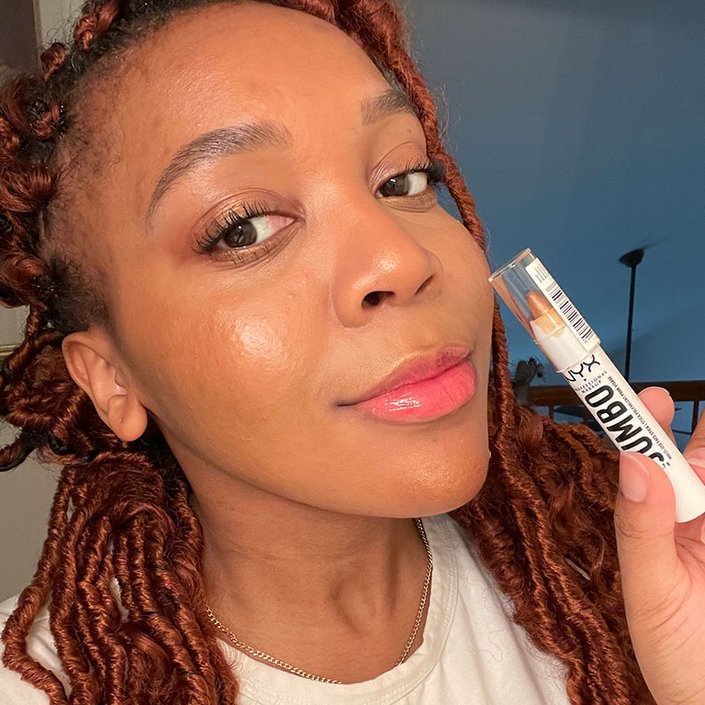 Alexis, Associate Editor
I believe that makeup should be fun and colorful, even if that means only having pops of colors here and there. My go-to makeup look recently has been a simple eye look of mascara and liner (the
NYX Professional Makeup Epic Ink Waterproof Liquid Eyeliner
, of course), a subtle lip and this vibrant highlighter stick. I love the creamy formula that adds a touch of color with a lot of blendability. I can layer it on as much as I want without fear of it caking into my pores or leaving patches. The bright Blueberry Muffin shade swatches as a fuschia purple, with subtle blue specks to create a holographic look that shines in the light. I use it all over my cheeks and up into my brow bone (lightly blending it in with my fingers) for a matching cheek and highlighter moment. I love being able to use a product for multiple purposes, which makes this jumbo stick a staple in my beauty bag for on-the-go applications.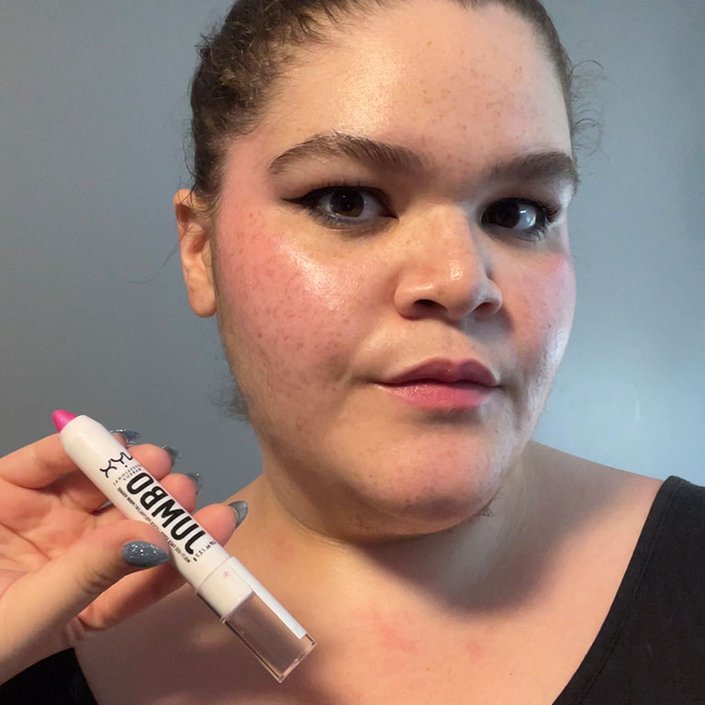 Alanna, Managing Editor
I love a warm-toned highlighter, so I was stoked to try this new Jumbo Multi-Use stick in Lemon Meringue — a stunning copper hue with golden reflects. The pigment of this stick lives up to the hype because a little product goes a long way. I applied this on my temples and down my nose for a sun-kissed, glowing finish and it did not disappoint. I love how it enhances my olive skin tone and adds just enough sparkle without looking too glittery. A summer makeup must-have!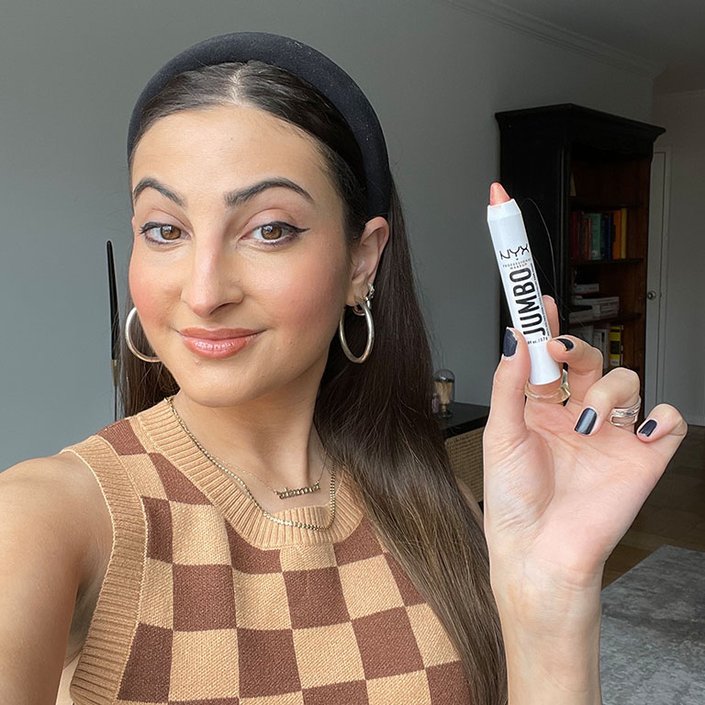 Ariel, Editor
I love a good highlighter, especially if it's a cream formula. This is a perfect example — the chubby pencil format and chiseled tip let me pinpoint the exact spots I want to highlight, and the formula blends in easily with just a tap of my fingers. This is a pencil I can easily stash in my purse and apply on the go if I feel like my makeup is missing some extra sparkle. I tried the shade, Vanilla Ice Cream, a pearly white with subtle glitter reflects that looks ultra-reflective and icy without appearing too blinding or metallic. I love that it doesn't look like a streak of chalky white — the subtle sparkle and creamy texture lets just enough of my natural skin tone shine through.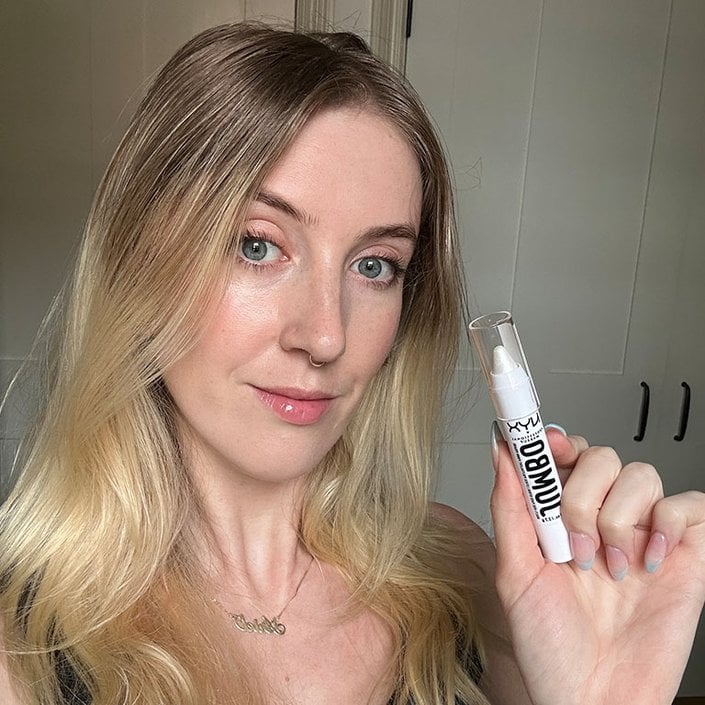 Sarah, Visual Designer
For me, summertime is the best time of year to add a bit of glow and highlight to my everyday makeup look. The shade Apple Pie works so well on my skin tone. It is a golden color with subtle glitter. The smoothness of the formula makes wearing shimmer so effortless. Depending on the level of glam I'm going for, I layer more or less onto the areas of my face I like to highlight. I apply the highlighter to my cheekbones, a little under my brows and on my nose for a brightening effect. This is my first time using a highlighter in stick form, and I've noticed it makes applying highlighter much quicker. After applying, I blend it out with either my fingers or a brush. I absolutely love the subtle glow it allows me to achieve. Definitely adding this into my on-the-go summer makeup bag!
Read more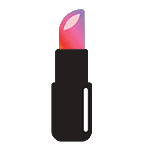 Back to top