6 Next-Level Clear Lip Glosses We Love
March 15, 2022
We're always hesitant to call anything "universal" — mainly because that means it needs to apply to, well, everyone. But one product that's worthy of the description is undeniably clear lip gloss.
It's true — clear lip gloss has the ability to transform any lip look, hide the driest of lips and take your selfies to the next level (if you're skeptical, apply a coat and start snapping). But like most things, all glosses are not created equal, which is why we rounded up the best clear lip glosses money can buy.
1 / 6
This is the plumping gloss your lips have been yearning for. With a little tingle and a whole lot of shine, your lips will instantly appear rounder, thicker, and more defined. We love pairing this one over a lipstick for extra shine.
2 / 6
Coat your lips in hydrating shine with this gloss that's formulated with hyaluronic acid. It helps visibly smooth your lips' surface while enhancing their shape for a fuller-looking pout.
3 / 6
Give your lips the shine and hydration they deserve with this electrolyte-infused formula. It also contains jojoba seed, avocado oil and squalane to thoroughly moisturize the lips. Coconut Chill is the clear lip gloss shade that enhances your natural lip color and catches all the light.
4 / 6
We like our glosses with a reflective shine, so this "vinyl" is an easy favorite. It's thick without being sticky, comfortable to wear and an all-around great drugstore find.
5 / 6
When it comes to clear gloss, formula is everything — which is why this hydrating option is a must-have. It's non-sticky, wet-looking and wears down to a balm texture after a few hours.
6 / 6
If you have sensitive skin, Chill is the formula for you. It gives you that high-shine, juicy appearance that you want from a clear gloss, but it also contains apricot kernel oil to help soothe.
Read more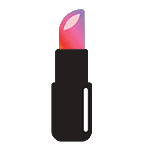 Back to top