10 Makeup Products You Have to Try This November
November 06, 2019
It's a brand new month, which means a new round of products is making its way onto store shelves and into our makeup bags. These are the products Makeup.com's editors can't live without this November.
Lindsey, Content Director
Giorgio Armani Luminous Silk Hydrating Primer
My skin is dry year-round, but come winter it's like the freaking Sahara. To combat flakes, I layer as many hydrating products as possible, from my serums to my foundation. And now, I've added this silky primer to my makeup routine. It's infused with moisturizing shea butter and glycerin but works like a dream without pilling or separating, no matter what I put on top of it.
Jenny Patinkin Lazy Perfection Rose Gold Eyelash Curler
Long ago I gave up using a lash curler on a daily basis because it was an extra step that never gave me the results I wanted. All the curlers I tried pinched and none gripped the downward-pointing lashes at the outer corners of my eyes. I don't know what made me pick up this rose gold color one recent morning, but I decided to give it a shot was blown away. It's curved enough to capture all my lashes (including those pesky outer-corner ones) and the white bumper strip is denser than most, meaning I only need one quick squeeze to get a curl that lasts all day.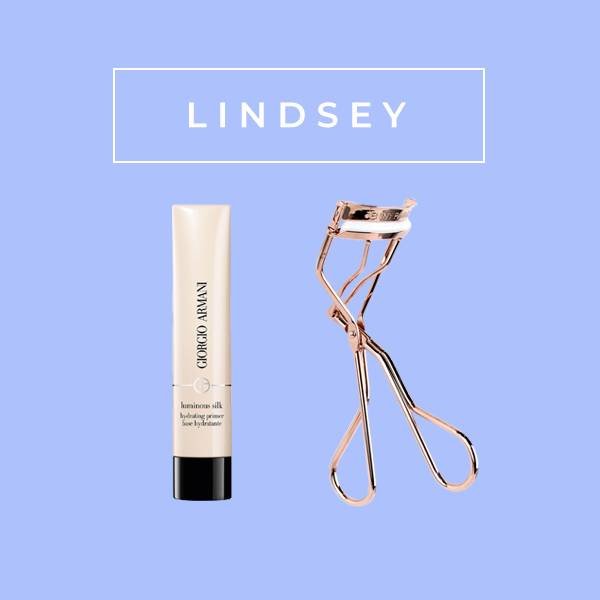 Alanna, Associate Editor
NYX Professional Makeup Love Lust Disco Sweet Cheeks Blush Palette
Lately, I've been such a sucker for the NYX Love Lust Disco Sweet Cheeks Blush Palette thanks to its pigmented color choices. This baby makes my face makeup routine a whole lot more fun because I consistently have the choice to switch up my cheek color using just one palette, whether I'm feeling a neutral brown, rosy red or peachy-pink. It also forces me to go outside of my comfort zone when it comes to blush, like applying the bold golden-yellow, which I love. 
YSL Beauty Rouge Pur Couture The Slim Sheer Matte Lipstick
Usually, you'd never catch me wearing a sheer lipstick — in fact, most of my collection consists of highly pigmented shades because I always like the look of a stark, plump pout. This typical lip game, however, recently changed for me when the new Slim Sheer Matte Lipsticks landed on my desk from YSL. These matte formulas are as pigmented as I usually like, except instead of leaving behind an opaque finish, they give you the softest, sheer wash of color. I love Red Uncovered because it still gives me that filled-in, thick lip I like, with a balance of stain-like sheerness — and I'm obsessed.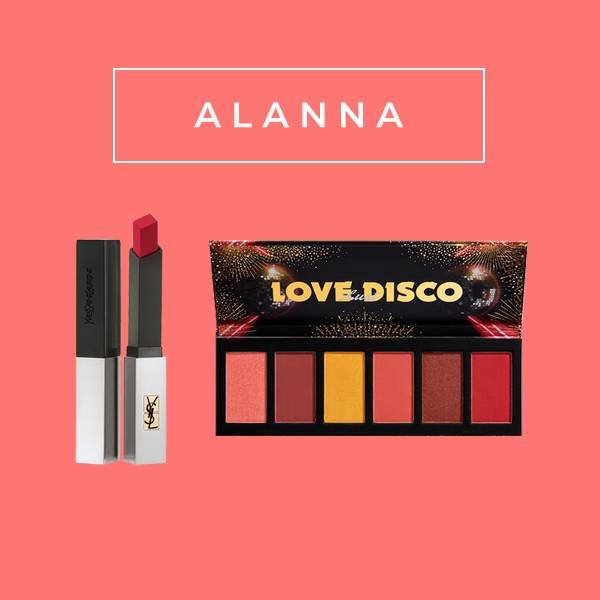 Jessica, Associate Editor
I've found my new favorite nail polish shade for the holidays in the Essie Winter 2019 Collection. Let It Bow is a white glitter polish inspired by a snowy winter day. The crisp white base has just the perfect touch of sparkle that's not too overpowering but still very fitting for the season. All of the shades in the entire collection are inspired by dazzling bows and have the same shimmery finish.
CTZN Cosmetics Lipstroke Lip Liners
It took me a while to join the lip liner party, but now that I have, my life (and my lipstick application) will never be the same. One lip liner that I'm obsessed with is the new CTZN Cosmetics Lipstroke Lip Liners, specifically in Deux. The nude liner has a velvety soft texture and goes on smooth for even application. I love how pigmented the color is and find that it keeps my lipstick edges from feathering. Plus, it's vegan, which is a bonus in my book.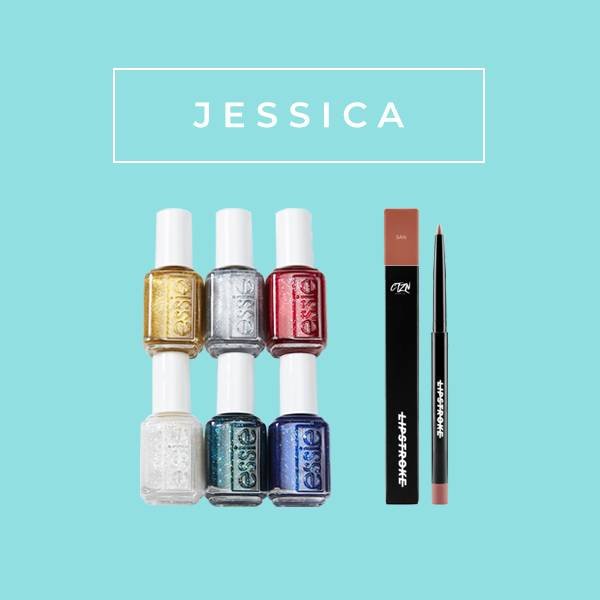 Genesis, Assistant Editor
Lancôme Color Design Eyeshadow Palette
Any and every holiday look of your dreams is possible thanks to this new holiday-edition Color Design Palette. There are seven captivating glitter shades and one black matte shadow that allows you to transition your makeup from subtle to sultry with ease. It also comes with a Prime It Boost It Shadow Primer for a more pigmented color that lasts all night long.
Samantha, Assistant Editor
Urban Decay All Nighter Setting Spray Ornament Honey Limited Edition 
I've sworn by Urban Decay's All Nighter Setting Spray since I was a tween experimenting with the OG Naked palette. This finishing spray may be an oldie, but it's most definitely a keeper. So when a limited-edition honey scent hit the shelves, I was all over it. My makeup literally doesn't budge after spritzing this, which is much-appreciated with lots of travel and a hectic holiday season approaching. And, while I keep this travel-size must-have with me at all times, I've definitely scooped up a few to give out as gifts, too. C'mon, a makeup-themed ornament is a dream come true for any festive beauty lover. Plus, it makes the perfect stocking stuffer. 
ColourPop BYE BYE Birdie Pressed Powder Palette 
I pride myself on hoarding as many glitter eyeshadow palettes as humanly possible. Seriously, I think I could wear a different shimmer every day of the year. That being said, ColourPop's newest launch has taken over my makeup routine every damn day since its release. The pink color range is stunning — and that's an understatement. Pink shadows have been my go-to look this fall, and I love that the Bye Bye Birdie Pressed Powder Palette has every hue I could want. My personal faves have been Gander and Never More.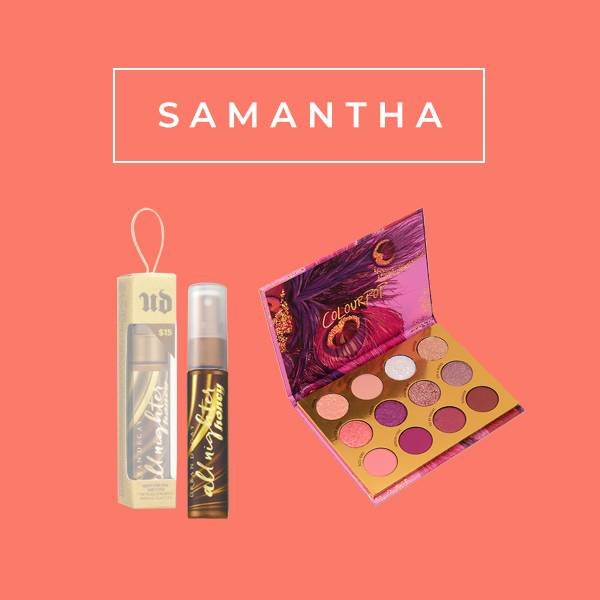 Jillian, Social Media Editor
L'Oréal Paris Voluminous Green Mascara
My eyelashes are completely blonde, which means I have a little more freedom when it comes to trying new mascaras –– it's so easy for me to truly see the effects of a new pick. Lately, I've been obsessed with experimenting with colored products. Blue, purple, burgundy –– you name it, I've tried it. When L'Oréal dropped its new green shade, I was immediately intrigued because I'd yet to try that color. Needless to say, I'm now obsessed. The dark green finish is perfect for fall and winter, and it works will with my fair skin and red hair. Time to add this to my permanent mascara lineup.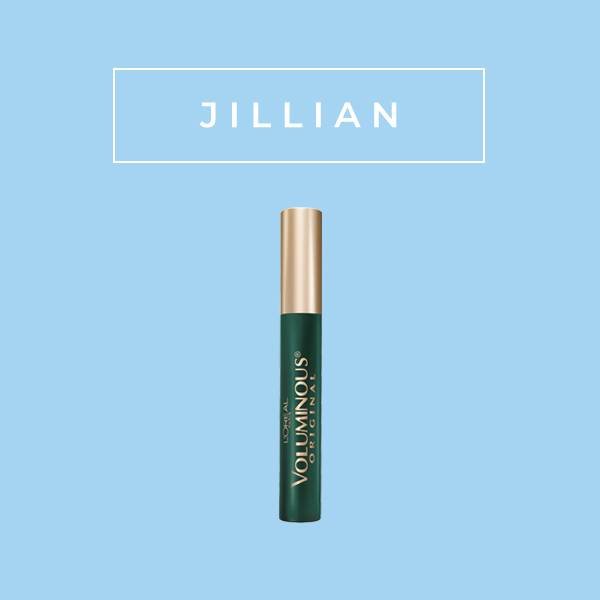 Read More:
The Double-Winged Eyeshadow Look You Have to Try!
Beauty 101 — What's Your Skin Tone?
I Tried Airbrush Makeup at Home — Here's What Happened
Read more