I Tried the Lip Gloss Blush TikTok Hack — Here's What I Thought
May 10, 2023
Glazed donut makeup is arguably one of the biggest trends to rock the beauty world in recent memory. If you've been on Instagram or TikTok anytime in the past year or two, you have surely encountered post after post featuring dewy skin, ultra-glossy lips and sheer, neutral manicures. It's no surprise, then, that people are continuing to come up with creative ways to level up the glaze. Enter: the lip gloss blush hack that has been taking over TikTok the past few months.
The trend is exactly what it sounds like — and TBH, it's nothing new. Chances are, if you are a makeup lover, you have already experimented with using lip products to tint your cheeks. But with the glazed everything obsession, it makes sense that this glossy blush hack is having a moment. It involves swiping a lip gloss of your choice on your cheeks and blending it out with a brush for a super shiny, light-catching blush look. In some cases, the lip gloss is layered over a base of powder or cream blush to maximize the flush of color and add extra shine.
Now, you may be cringing at the mere thought of the stickiness (who wants their hair sticking to their cheeks with the first hint of a breeze?) or immediately writing it off as a major breakout risk. These thoughts immediately crossed my mind, too. But I can't resist a dewy makeup look, and it looks stunning in the TikTok examples. I had to try the lip gloss blush hack for myself. Keep scrolling to find out what I thought.
My Thoughts on the Lip Gloss Blush Hack
As gorgeous as this blush look seemed in the TikTok videos, I had my apprehensions since my skin tends to break out pretty easily. I have always tried to keep my face makeup products lightweight. But this hack combines my two absolute favorite makeup looks — statement blush and dewy skin. How could I resist?
First, I needed to choose the right gloss. After a few false starts that either felt too sticky to wear on my face or wouldn't blend out easily with a blush brush or my fingers, I landed on the perfect choice — the Maybelline New York Lifter Gloss Lip Gloss With Hyaluronic Acid.
This is one of my favorite glosses to use on my lips because it is richly pigmented, but still sheer. Plus, the texture is not sticky or heavy. The hyaluronic acid in the formula was also a big selling point for putting it on my cheeks, since it's a hydrating, powerhouse skincare ingredient found in tons of skincare products. I opted for the shade Petal, a warm, rosy pink with flecks of shimmery copper.
Before applying the lip gloss to my cheeks, I did my normal everyday makeup routine — foundation, concealer, clear brow gel and mascara. My go-to foundation and concealer combo right now is the Giorgio Armani Beauty Luminous Silk Foundation, the Valentino Beauty Very Valentino Concealer under my eyes and the IT Cosmetics Bye Bye Dark Spots Concealer + Serum to cover any blemishes. I also decided to add a dab of the Charlotte Tilbury Matte Beauty Blush Wand in Pillow Talk to each cheek because I like a very flushed look.
With my base of makeup done, I was finally ready to go in with my lip gloss. I applied and blended a swipe to each cheek one at a time, so the color wouldn't stain my cheeks before I was able to blend it out. I was pleasantly surprised by how easily the Maybelline New York Lifter Lip Gloss blended into my skin when I buffed it out in circular motions with a blush brush. It also had plenty of color payoff while still looking sheer and natural. It looked gorgeous, glowy and totally on trend, as if I had applied a subtle highlighter. Most importantly, though, the formula didn't feel sticky or uncomfortable on my cheeks at all.
Ultimately, while this hack may not be for everyone, I was genuinely surprised by how well it worked once I found the right lip gloss. I probably wouldn't wear lip gloss as blush for a full day or night out, but it was a quick and easy way to get perfectly dewy, flushed cheeks.
Read more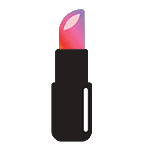 Back to top