The Best Eyeliners | Beauty Haul of Fame
March 30, 2017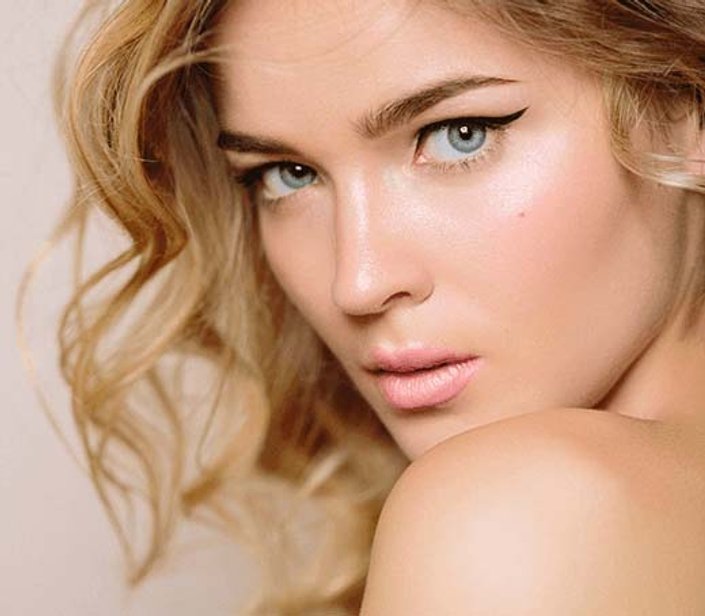 For most beauty-lovers, a good eyeliner is one of the more important components to a well-rounded makeup arsenal. We're talking pigmented, anti-smudge, last-through-the-apocalypse good. But finding that perfect formula is no easy task. First, there are a TON of eyeliner options at your fingertips, all delivering their own set of perks and specific looks. Second, if they all serve different purposes, doesn't it make sense to have one of each formula type, so you have endless lining and defining capabilities? Why yes! Check out our list of the best liners, ever. Read up on their benefits and decide which one (or two or three…) meets your specific eyeliner needs. And to make your search even easier, we've provided a quick cheat sheet on basic eyeliner education to help you decide what type(s) may be right up your alley.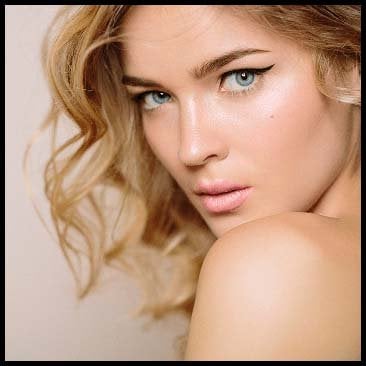 Liner Notes
We know it's hard to decipher the difference from one liner to the next, so consider this your Cliff Notes version. Here's what makes each of these formulas so different, so special and so I-gotta-have-them!
Pencil Liner
What it is: It's a cream-wax formula, that leaves more of a matte or semi-matte finish and the color blends easily and makes for easy thick or thin line application.
Best uses: This type of liner should be a staple in every makeup arsenal as its essential for adding simple definition to the upper and lower lash lines. It's also great for lining the waterline and for rocking a smudged and smoky liner look.
Cream & Gel Liner
What it is: Usually found in a pot, this formula delivers a fair amount of shine, but requires an eyeliner brush for application. The thin brush allows for super-thin or more thick and lush effects. You have a bit of time to move it around, but once it sets, it's usually budge-proof.
Best uses: If you've got a not-so-steady hand but still want to master a tightlined or winged look, we suggest picking up a cream or gel liner, as they're thicker in texture and a bit more forgiving than the liquid variety. Try one of these formulas when creating a bold, dramatic cat eye.
Liquid Liner
What it is: Just like the name implies, this type of liner goes on wet and shiny but dries down to a more flat appearance. For dramatic effects it's best to layer one or two coats on. Once dry, it stays put all day long, making reapplication a non-issue.
Best uses:
This tends to be the most popular option for cat-eye and avant garde-like eye looks because the felt or brush tip, plus the wet formula, allows for super-precise lines and graphic shapes, like an artist. Or for nestling in super close, or in between, lashes.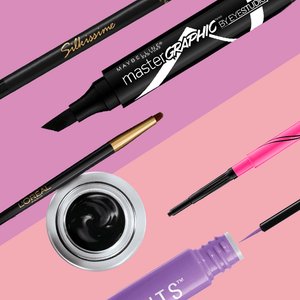 1 / 11
Check out the liners that made it into our Beauty Haul of Fame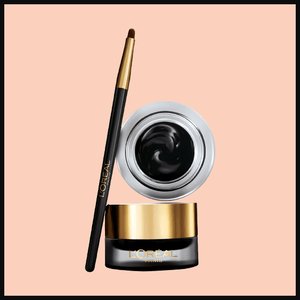 2 / 11
L'Oréal Paris Infallible Lacquer Liner 24H
Get your lids lacquered up, while kissing that long-standing fear of gel liner formulas good-bye. This easy-glide liner features a glossy finish that leaves your eyes perfectly lined and shining for all to see. It also comes with a liner brush that makes for a precise and flawless application, so you don't have to fuss with cleaning up your liner and/or straightening it out. And the heavy pigment makes it go on thick and perfect with just one swipe! What could be better than that, right? Um, how about its 24-hour wear that will last all day and all night? We're on board with that!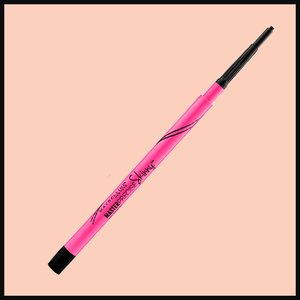 3 / 11
Maybelline Master Precise Skinny Gel Pencil
Getting a razor-sharp cat eye is no easy task, but this new, super-skinny liner from Maybelline gets the job done. The micro-tip allows for precise application and the pigmented formula delivers rich color in one swipe. Say farewell to those days of thickening that cat-eye line because you can't seem to get it straight. This super-skinny liner let's you get it right the first time. So you can go as simple or as complicated as you want. Heck, since you've got all this freedom at your fingertips, why don't you try a double-decker look. And if you're feeling REALLY adventurous, pair this liner with a colored or white formula.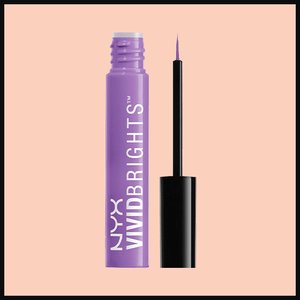 4 / 11
It's the season of neons and pastels and there's no better way to show your true colors than through a hot eyeliner. Available in nine vivid shades, these intense, pro-level bad boys will have your eyes glowing like never before. You can go as avant garde as you want with this wide range of shades that includes yellow, blue, lime green and red. Get some inspo on how to use these bright and beautiful liners by checking out these neon makeup looks.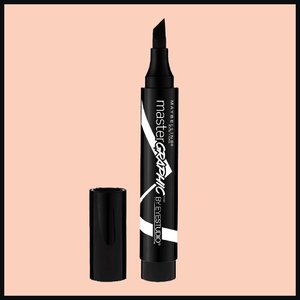 5 / 11
Maybelline Eye Studio Master Graphic
Looks like we've been transported to our childhood art-class days, as it looks like they're making markers for our faces! OK, this may sound weird, but the concept is actually pretty revolutionary. These graphic liners allow you to draw the boldest, sharpest of lines with just a flick of the wrist. All you have to do is draw your liner like you drew your fave stick figures as a kid! The color goes on strong and smooth, so creating any look you want is a total cinch. Add, let's be honest, when it comes to winging our liner, we need as much control as we can get.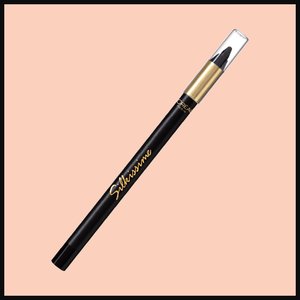 6 / 11
L'Oréal Paris Infallible Silkissime Eyeliner
Yes, a perfect cat eye is important, but let's not underestimate the power of a sultry, smooth liner. L'Oréal's Silkissimee liners deliver intense color—with shades including classic black, cobalt blue, purple and teal—in a silky finish (hence, the name). In addition to the color variety, each shade features the same long-wear formula that lasts up to 16 hours. So you can go from the office to happy hour and beyond without even reapplying your liner! Tip: Try lining both the upper and lower lash lines with one of these fabulous colors, then smudge them slightly with a flat shadow brush and you've got yourself some serious smolder action.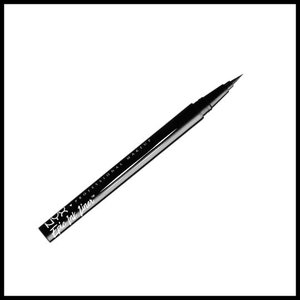 7 / 11
NYX Epic Ink Liner
Ready to give your liner some wings? Get your hands on a liner that is truly epic. Featuring a super-sleek brush tip, this one gives you complete control so you can create the eye of your dreams — on the first try! And the pigmented, waterproof formula makes for easy and long-lasting application, which is always a good thing. Tip: For a bolder wing, press down on the liner as you glide it across the lashline for a thicker line. Follow the natural curve of your lashes as you extend the wing and fill it in until you get the intensity you desire.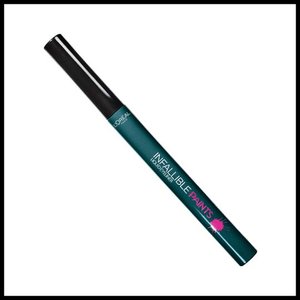 8 / 11
L'Oréal Paris Infallible Paints Liquid Eyeliner
You may need to change your name to Picasso, because now you will really be able to turn your eye makeup into a work of art. This paint-like liquid liner glides on smooth and easy with a razor-sharp brush tip that makes application a breeze. It also comes in a variety of fun, bright hues, so you can wear these bad boys on their own or layer them up for an avant garde look that will turn heads. Tip: Try a two-toned eyeliner look by swiping on a black or dark teal shade on the top lash line and the electric blue or aqua shade on the lower lashline.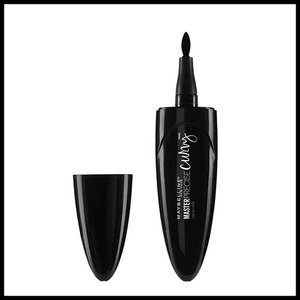 9 / 11
Maybelline New York Master Precise Curvy
Not all eye shapes are created equal, but this liner is designed to fit them all. Featuring a curvaceous, patent-pending tip, this liner hugs lids and creates a seamless frame around your peepers. All you have to do is hold the easy-grip tube at an angle and start lining the eye from the inner corner, following the natural curve of your eye. For a cat eye, use the curved end of the tip to create a perfectly rounded wing. Clean up your look with a wet cotton swab, swipe on some mascara and get ready to rock your perfectly lined eyes!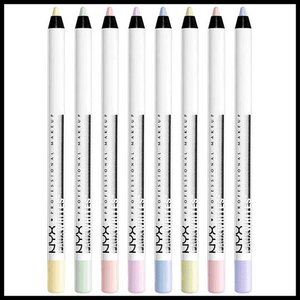 10 / 11
NYX Faux Whites
Bring new meaning to the term "bright eyes!" Featuring eight white liners with a slight hint of color — lavender, light blue, blush, mint, etc. — your peepers will shine brighter than ever before. The soft, matte finish offers a clean, flawless line that goes on super easy. This liner is the perfect solution for those super-sleepy mornings when you're running on a couple hours of sleep and need to look bright-eyed and bushy-tailed in a jiffy. Here's what you do: Simply line the waterline and inner corners of the eyes with this liner, swipe on some mascara and watch your eyes awaken in an instant. No one will know about your late night or the fact that you hit the snooze button several times before rolling out of bed.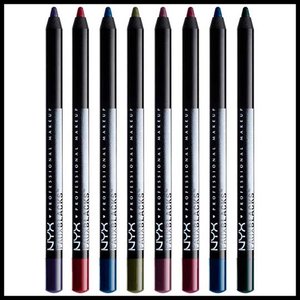 11 / 11
NYX Faux Blacks
If you wanna turn up the smolder but keep the color, go for the brand's Faux Blacks collection, which features eight deep matte shades (inspired by our fave black kohl liners!). Swipe on one of these rich colors — including olive, midnight blue, dark emerald and plum — when you're feeling particularly sassy and/or want to add some color to that cat eye! You can even double up and use a shade on the top lashline and a different one on the lower.
Which eyeliner is your makeup soulmate? Sound off in the comments below.
Read more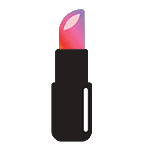 Back to top