6 Almond Nail Art Looks You Can Actually Create Yourself
May 06, 2020
Looking at intricate nail art designs is one of our favorite pastimes. But now that we're social distancing and can't get to the salon to bring those looks to life, it can feel like a tease. That's why we've been on the hunt for fun nail art designs that we can actually attempt to create on our own. Here, we're rounding up the best ones we've seen that will work especially well on almond-shaped nails (if your nails are getting as long as ours right now, almond is the perfect shape to file them into).
Show Some Nail
Negative-space nail art like this only looks intimidating. All you need to achieve clean lines is a roll of tape. Place a piece of tape diagonally on each nail and paint above it. When the nail is dry, remove it and add a top coat.
Hot Spots
Use the same tape method mentioned above to create this geometric look. Once your base is finished, use a dotting tool to add the polka dots.
Just a Swipe
We could all use a little sparkle in our lives right now. Jazz up neutral nails with a quick flick of your favorite glitter polish on top. For a more precise finish, use a thin striper brush to apply.
Let the Glitter Do the Work
If you can't paint perfect shapes like circles on your nails (raises hand), just use a chunky confetti glitter. You can use a dotting tool for deliberate placement, or just sprinkle it on wet nails and see what happens.
Get in Line
A thin black line can give a pretty pastel polish some edge. Use a striper brush or whatever thin makeup or paint brush you have handy to add the accent.
The Best of Both Worlds
If you can't choose between a nude polish and neon shade, use both! Tip: To create the half-moon designs, use hole reinforcement stickers.
Read more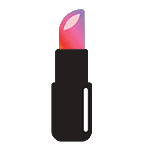 Back to top