25 Coquette Nails Ideas for Your Sweetest Manicure Ever
June 12, 2023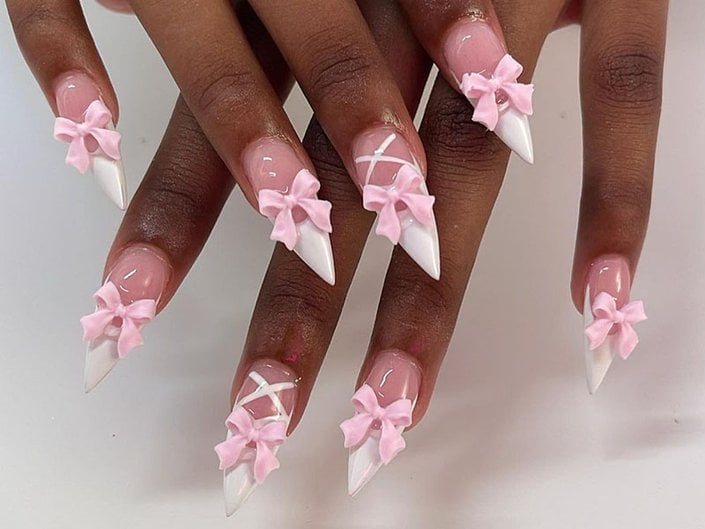 If baby pink, delicate lace, bows galore and pops of cherry red sound like your thing, you probably already know of and adore the coquette aesthetic. If you don't, allow us to introduce you: Coquette style takes the romance and femininity of 18th and 19th century fashion and gives it an updated, Pinterest-ready spin. In addition to coquette makeup and fashion, we're also seeing plenty of coquette nails circulating on our Instagram feeds and our favorite Pinterest boards. Below, editorial manicurist and brand founder Jin Soon Choi helps break down the trend, and we present 25 coquette nail ideas that will send you rushing to the salon.
What Are Coquette Nails?
"Coquette nails provide a flirty, playful vibe with an almost child-like yet sophisticated cuteness," says Choi. "I feel that the flapper era is representative of coquette nails in their use of long, almond-shaped nails with hot red, classic moon or silver metallic nails. The modern take on coquette nails employs white pearl or silver chrome on almond or round shapes and black ombre, all of which most certainly deliver this stylish coquette nail look." Feeling intrigued? Keep scrolling for 25 coquette nails we have our hearts set on.
Coquette Nails Ideas
Lace-Up French Tips
Baby pink bows, lace-up detailing and classic white French tips converge to make the perfect coquette-meets-balletcore manicure. If you're attempting to DIY this look, you'll need bow nail charms and an opaque white polish, like Essie Blanc.
Pink Plaid
Match the gingham of a pleated tennis skirt to your nails with this dreamy pink plaid set. Bows, pearls and sweet heart and bear cutouts add extra whimsy.
Cotton Tail
This set combines everything we love about the coquette aesthetic — an innocent bunny motif, flowers, ribbons, gingham and pearly details.
Maximalist Coquette
Don't be afraid to shy away from maximalist mismatched sets when emulating the coquette aesthetic. This set is giving us flashbacks to the pastel goth posts all over Tumblr in the 2010s.
Bold Bows
Chunky white and nude bows make a playful statement against pale, blush-pink nails in an elegant almond shape.
Pearly Whites
We love the contrast of these black hand-painted bows against opalescent white polish. To DIY the look, you'll need a nail art brush, a black polish like Essie Licorice and a pearly white like JINsoon Akoya.
Spring Roses
For nails that look straight out of a storybook, give this baby pink and dove gray manicure a spin. Bonus points for rosette rings and charming hand-painted bows.
Head in the Clouds
Between the dreamy ivory clouds and the oversize satin bow, this set is like a mini rococo painting for your nails.
Glitter Ombre
A whisper of pink glitter fades into nude on these square-tipped nails. If you prefer more subtle nail art, these are perfect for you.
Swan Lake
Delicate swan details and white glitter are unforgettably girly and sweet. If you don't have a ballet on your itinerary, these would look equally dreamy at a summer picnic.
Cute Corsets
Love long, elaborate nails? This coquette set is for you. We're hooked on the corset detailing and bubblegum pink base.
Hearts and Stars
For nails that look straight off a Pinterest page, try this blush set. They're reminiscent of Korean blush nails, which nail artist Choi previously deemed one of the
top nail trends of 2023
.
What's sweeter than cherry cola? A heart-stemmed and red gingham-checked mani, of course.
Strawberry Fields
Itsy-bitsy strawberries and a delicate scattering of pearls make for a girly yet refined manicure.
Tea Roses
Fit for an afternoon tea, these dainty rose-printed French tips are accented by a touch of gold glitter.
Pink Supreme
Can't get enough pink in your life? Hit "save" on this rosy manicure with touches of glitter. The sweet bow accent adds an extra coquette touch.
Sheer Stilettos
Give coquette nails a subtle edge with an ultra-sharp, elongated stiletto shape. Glitter and pearls can only look so sweet with nails that are sharp as daggers.
Baby Bows
Short nails can get in on the coquette trend too — just add a strawberry milk-colored polish and some metallic bow accents.
Angel-Core
Pearls and cream accents give these coquette nails a sense of sophistication and luxury.
Antique Touches
For nails that would look right at home applying powder in front of an antique vanity, look no further than this vintage-inspired set.
Black Lace
These nails are giving a mix of Y2K prom and pastel goth, with hints of black lace, pearly pink accents, bows and silver piercings.
Whisper Pink
Early 2000s-inspired freestyle designs get a modern update with chunky pearl charms and transparent butterfly decals.
Read more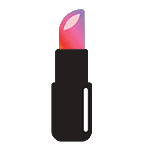 Back to top