How to Use Concealer to Cover Breakouts, Hide Dark Circles and More
February 27, 2023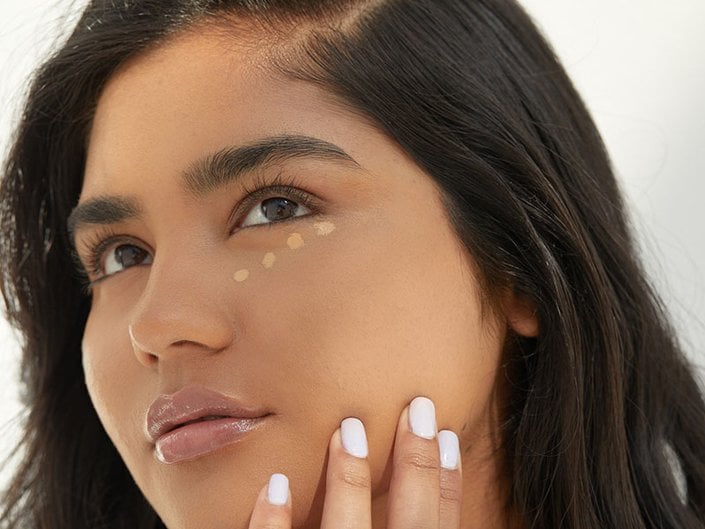 Arguably the most versatile beauty product in any makeup lover's stash is concealer. You've likely come across this all-in-one product while strolling the beauty aisles or stumbled upon a TikTok hack that uses it. But knowing where and how to use concealer takes some know-how.
First, you have to pick a formula that works well for your skin type and your desired makeup look, whether that be dewy and barely there or matte and full coverage. You also have to choose the right shade, taking into account your skin's undertones and what you're trying to use the concealer for, whether that be covering up a pimple or highlighting and contouring your entire face. There's also the matter of blending concealer to get the most flawless, skin-like finish — without proper blending, concealer can sometimes emphasize the skin concern you're aiming to hide.
Whether you're completely clueless about concealer's transformative powers or just want a refresher on how to cover dark circles, we're sharing more info on what concealer is used for and our best tips for adding it to your routine, ahead.
What Is Concealer?
Concealer is similar to foundation, except it tends to be more pigmented and have a thicker consistency. Concealer is often applied on top of foundation or a skin tint to add extra coverage in targeted areas, but it can also be used on top of bare skin (as long as you're extra vigilant about blending).
What Is Concealer Used For?
You can use concealer in a shade that matches your skin tone to cover up breakouts and acne scars, or pick a formula that's one to two shades lighter than your skin tone to brighten up dark circles in the under-eye area. Aside from spot-concealing and covering up dark circles, concealer can also be used to highlight and contour your face.
Where to Apply Concealer
Concealer should go anywhere you're looking to add extra coverage. Once you apply your base makeup (i.e. foundation or skin tint), look in the mirror — are there stubborn zits still peeking through, or dark circles under your eyes that you want to cover? That's where you should place your concealer.
Instead of applying one thick layer of concealer on the areas you want to cover, try to remember the mantra "less is more" and work in thin layers, dabbing the product on sparingly only where you need it. It's always easier to add more concealer if you desire more coverage, but it's harder to take away excess product.
If you're highlighting and contouring with concealer, choose shades that are one to two shades darker or lighter than your skin tone for the most natural finish. Your highlight and contour placements will differ based on your face shape, but in general, contour goes in the hollows of your cheekbones and along your temples, nose and jawline, while highlights are placed in the center of your face.
How to Use Concealer Correctly
Prep Your Skin
Skin prep is one of the most important aspects of achieving a flawless base. Starting with clean, dry skin, apply a moisturizer that sinks in quickly and won't pill or flake under makeup. One of our favorite formulas is the Youth to the People Superfood Air-Whip Moisture Cream.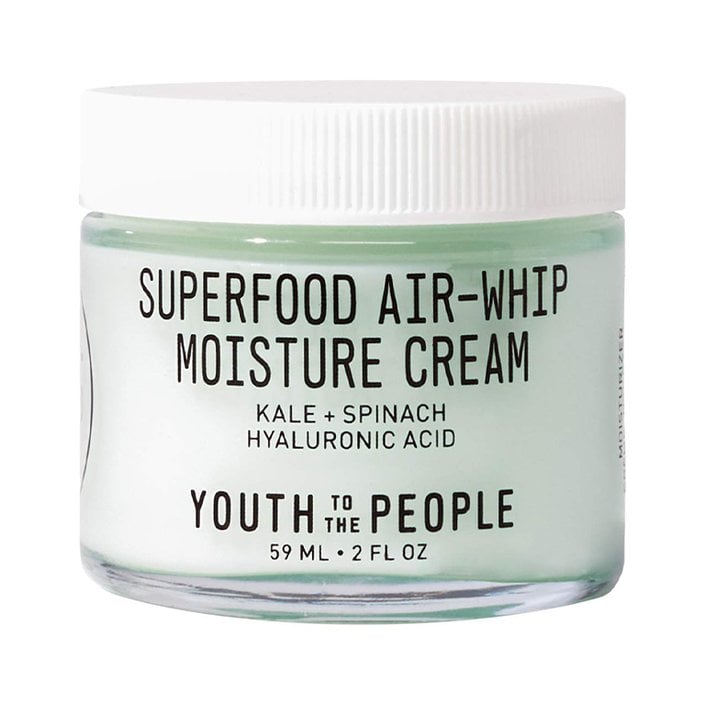 Choose the Right Shade
You may need multiple shades of concealer for the most seamless makeup look. If you have breakouts that you want to cover, look for a concealer shade that matches your skin tone or foundation shade exactly. If you can't find a perfect match, opt for a concealer that's just slightly darker, which will help minimize the breakout — if you pick a shade that's too light, it will draw more attention to the pimple.
To conceal your under-eyes, choose a shade that either matches your skin tone or is one to two shades lighter. This will highlight and brighten your under-eye area, which will give you a more rested, awake appearance.
To contour your face, choose a concealer that's one to two shades darker than your skin tone. For the most natural sculpted effect, look for a concealer with cool or ashy undertones. Those with fair to medium skin should opt for colors that look gray or taupe, while those with dark skin should look for contour colors with blue or purple hues.
Pick an Applicator You Like
Using concealer is relatively simple depending on the applicator. If you opt for a concealer with a doe-foot applicator like the Lancôme Teint Idole Ultra Wear All Over Concealer, simply pull the product out of the tube, dab it on the areas you would like to conceal and blend with your fingers or a brush.
If you are using a concealer with a sponge-tip applicator like the Maybelline New York Instant Age Rewind Concealer, simply crank the formula up to the top and you'll see it begin to seep out of the sponge tip. Then, dab the sponge onto areas you are looking to conceal. You can also use the sponge to blend instead of a brush or your fingers.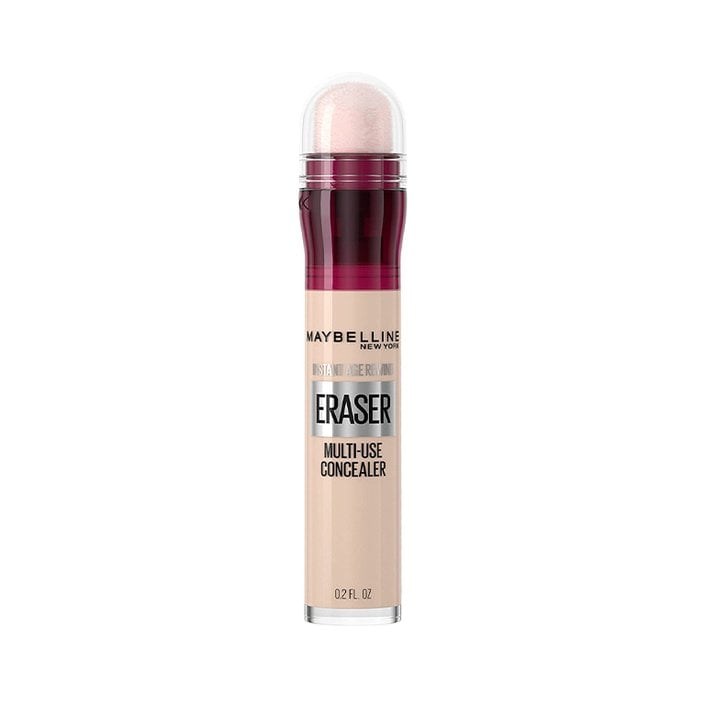 Pick the Right Formula
Some concealers provide a radiant, brightening finish, which is great for highlighting and adding coverage to dark circles, while others are matte, opaque formulas that camouflage breakouts with a single swipe. The coverage level and finish you choose will depend on your preference. If you're going for a full glam look, you'll probably want more coverage, whereas those who prefer minimal makeup might love a medium-coverage, buildable formula.
The Giorgio Armani Beauty Luminous Silk Hydrating Concealer is a great happy medium. The lightweight, hydrating formula offers medium coverage that masks dark circles and blemishes, but the satiny finish blends in seamlessly and looks like real skin.
Those who prefer full coverage will love the Urban Decay Quickie 24HR Multi-Use Concealer. The doe-foot applicator and built-in brush allow for quick and easy blending, and the formula covers without fading or flaking for up to 24 hours. Despite its high-impact coverage, it feels weightless on the skin and doesn't crease throughout the day.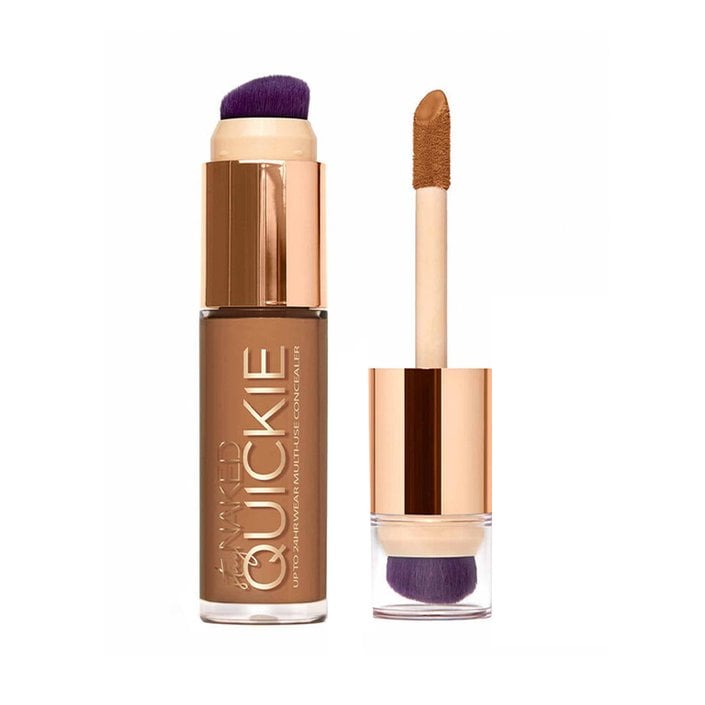 How to Cover Acne With Makeup
Before you apply concealer to acne, you'll want to color correct to neutralize the spots first. If your breakouts are very red and inflamed, apply a thin layer of a green color corrector first, such as the Lancôme Teint Idole Ultra Wear Camouflage Color Corrector in Green.
"For acne scarring or older blemishes, which typically tend to be more brown, you want a corrector on the red/orange end of the spectrum to neutralize them," Kasey Spickard, an NYC-based makeup artist, previously told Makeup.com. He recommended the LiveTinted HueStick in Rise. Those with light skin tones will want to pick a paler, more peachy shade, like the e.l.f. Cosmetics Camo Color Corrector in Peach.
Next, apply a full-coverage concealer. The Dermablend Cover Care Full Coverage Concealer is a lightweight blend that's sensitive skin-tested and won't clog your pores. "After applying your color correctors, stipple or dab your concealer over the acne," said Spickard. "It's important to use a sponge or stippling brush to do this. Do not swipe the concealer on or you will end up removing the corrector you just placed." For maximum coverage, let the concealer dry down for a minute or two before you blend it out.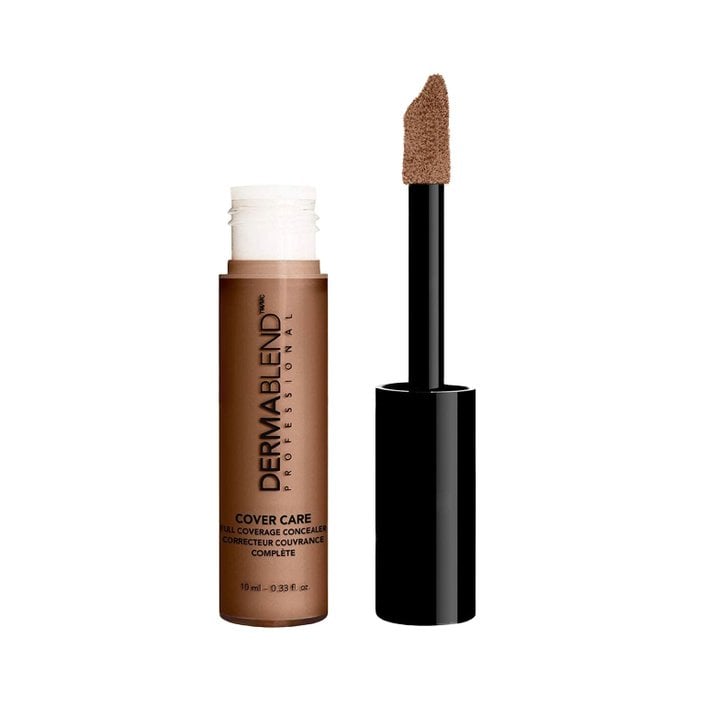 How to Cover Dark Circles With Makeup
The under-eye area is thinner and more delicate than the rest of the skin on your face, so it's important to hydrate with an eye cream or serum before you go in with your concealer. To soothe puffiness and help minimize the look of dark circles, try the L'Oréal Paris Revitalift Derm Intensives 1.5% Hyaluronic Acid + 1% Caffeine Eye Serum.
Once your eye cream or serum dries down, apply a small amount of concealer, focusing on the areas where your under-eyes are the darkest — typically the inner and outer corners of your eyes. Gently pat the concealer to blend using either your finger or a small concealer brush. Remember to work in thin layers and build coverage as needed to avoid a cakey or dry effect.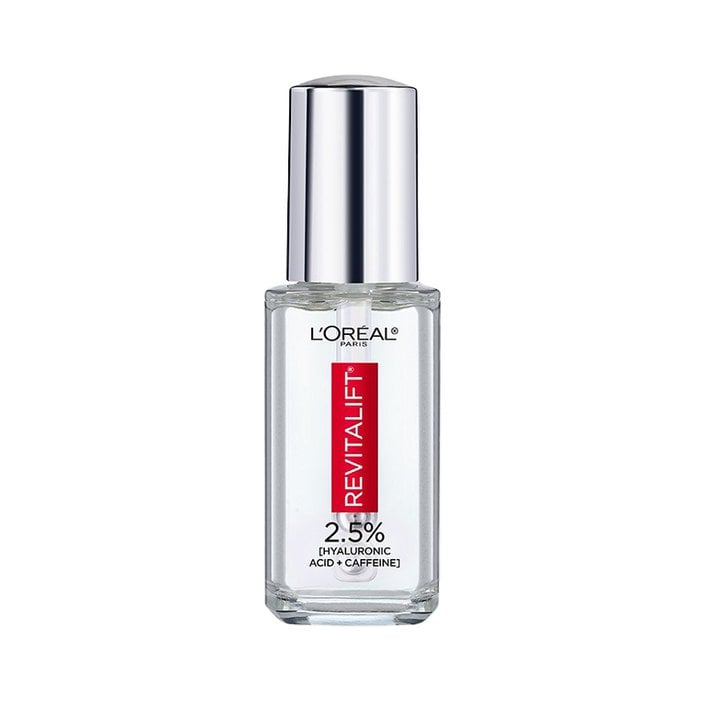 How to Color Correct With Concealer
Color correcting concealers neutralize unwanted tones in your skin. To find the right color corrector for your skin concerns, take a look at the color wheel. Green color correctors cancel out redness in the skin, since red and green are across from each other on the color wheel (aka complementary colors). Orange and peach color correctors cancel out purple tones in acne scars and dark circles, while purple color correctors balance out sallow yellow tones and hyperpigmentation. Once you apply a light layer of color corrector, you can apply a foundation or concealer that matches your skin tone on top.
To get the hang of color correcting, try a palette with a variety of shades, like the NYX Professional Makeup Color Correcting Palette.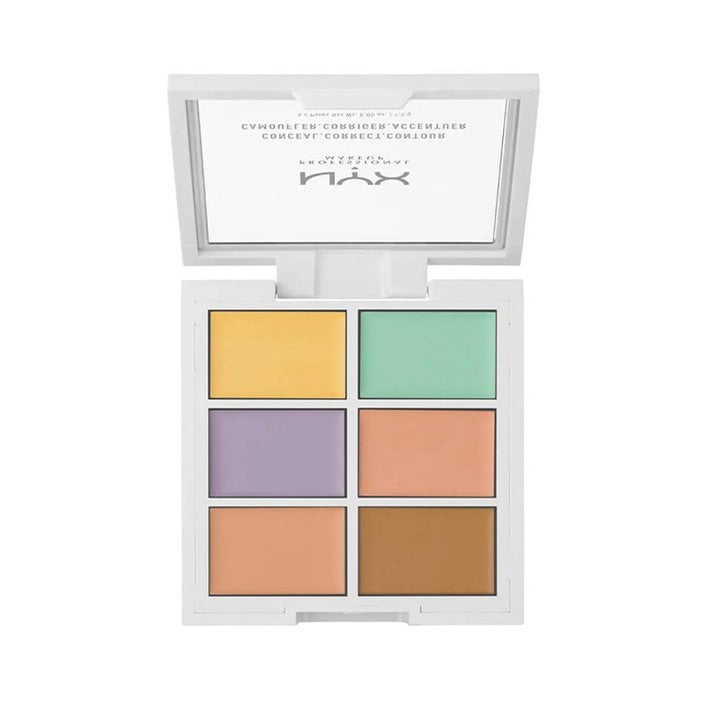 How to Use Concealer as Foundation
If you love the finish and feel of your concealer, there's no rule stating that you can't apply it all over your face like you would foundation. Apply a few stripes of concealer on the center of your cheeks, nose, forehead and chin, then blend the color out with a makeup sponge or foundation brush. If you're using concealer as your foundation, make sure the shade matches your skin tone.
How to Highlight and Contour With Concealer
To contour with concealer, pick a formula that's one to two shades darker than your skin tone. There are different techniques to contour each face shape. For example, those with a heart-shaped face will contour in a "3-"shaped motion along the sides of the forehead, cheeks and chin. Think of contouring as a way to add shadow and dimension to your face. The darker colors make the areas you place them appear more sculpted or chiseled.
Meanwhile, highlighting adds emphasis wherever you place it. Try adding highlighter underneath your eyes, along the tops of your cheekbones, in the center of your chin and forehead and down the center of your nose.
Read more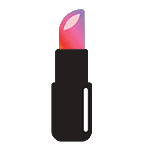 Back to top