Can Confirm: The Mood-Boosting Power of Squigs Beauty Products Is Real
November 30, 2022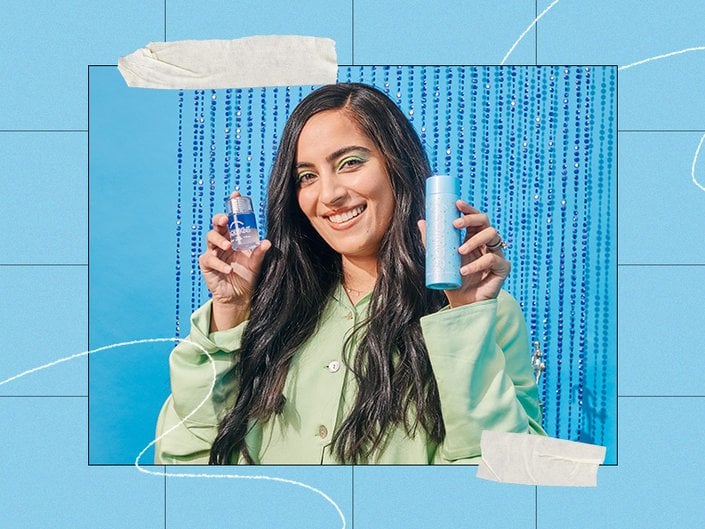 It feels impossible to look at
Squigs
beauty products and not feel at least the teeniest bit of a mood boost. Think: the cheery feeling you get after watching a video of a kitten stretching or seeing a vibrant rainbow appearing in a cloud-filled skin after a rainstorm. From the hair-care and skincare website's colorful and funky graphics to the mesmerizing and oh-so-playful product packaging, Squigs exudes joy. As it turns out, on top of
healthier hair
and skin, a feeling of happiness is exactly what
Nikita Charuza
, a former editor turned beauty founder, was hoping Squigs would provide to customers. Ahead, we chatted with Charuza about how her South Asian heritage and Ayurvedic ingredients inspired the creation of the beauty brand, how her career as an editor has influenced her founder journey, the benefits of the brand's headcare treatment,
face serum
and more.
What's your career background and how did you get started in the beauty industry?
I've been a fashion and beauty editor for almost a decade! I started out in college by interning for a few PR roles at places like Net-a-Porter and Lacoste before taking editorial positions at ELLE India, ELLE Arab World, and I even had a role at L'Oréal's Skincare.com at one point! Currently, I'm working on Squigs full-time as well as freelancing on the side for various publications like InStyle and PEOPLE because I love to write. But prior to that, I was an editor at POPSUGAR for almost six years.
When did you decide you wanted to launch Squigs? Was it always something you wanted to do?
I always wanted to create my own brand inspired by all of the incredible Ayurvedic ingredients that were a huge part of my childhood and heritage, but I didn't know when exactly it would happen. I had been working on Squigs for the past four years whenever I had a free moment outside of work (and, as an editor, oftentimes you don't have a lot of time because you're on call 24/7!).


Tell us more about how the idea for Squigs came to be.
The idea for Squigs Beauty actually stems from my South Asian heritage. I'm really proud to announce that we have also been chosen as the first and only South Asian brand for the first Ulta Beauty's MUSE Accelerator program.

Despite having some of the best products at my fingertips as an editor, I found myself going back to the products like the amla hair oil we'd create in our household while growing up. I knew it was possible to make more effective versions of my favorite products that were free from synthetic fragrances and dyes. I wanted to create a brand that just evoked joy and happiness because I feel like both beauty and fashion can feel so isolating — especially as a minority! There needs to be more of us within this space, and as an editor, I made it my mission to always uplift and highlight other BIPOC fashion and beauty brands. I plan on continuing to do so even with Squigs because there deserves to be more of us at the table.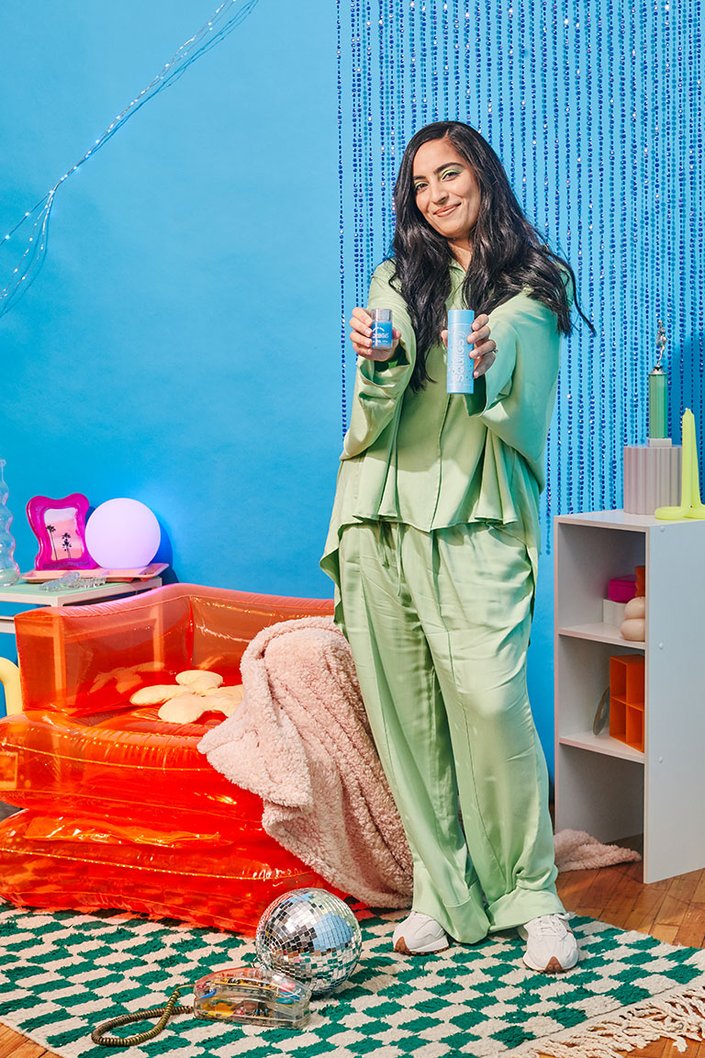 What is the concept behind Squigs?
Squigs is a brand rooted in Ayurveda whose mission of Happy Headcare™ was created to put you in a good mood. Happy Headcare™ is our comprehensive approach to caring for the skin on your face and scalp because both are equally important. Because of our beliefs in headcare, a percentage of proceeds will be donated to a mental health charity. If you don't take care of what's inside your head, what's the point?


Tell us a little bit about the two products in your line. Why did you decide to launch with these two products?
In Ayurveda, a lot of the ingredients we use in hair care, we use in skincare, and even food — so it just fell into place and made sense to launch with both a hair oil and face serum using the best of Ayurveda and modern science/formulation!

Gooseberry Delight Hair Oil is our award-winning headcare treatment for strong, shiny hair and a healthy scalp. Derived from the gooseberry plant, amla oil has been used as a beauty treatment in Indian communities for centuries. After years of testing, we finally formulated the amla hair oil of our dreams: effective, lightweight, easy to wash out and safe for sensitive skin. Unlike many modern hair oil formulations, ours is free of unnecessary synthetic fragrances and dyes that can potentially cause a dry, itchy and irritated scalp. The multi-use hair oil can be used as an overnight scalp and hair treatment, or a few drops can be used as a styling oil to tame frizz and flyaways while adding shine. Our oil is also formulated with coconut oil, castor oil, Kalonji (black seed) oil, apricot kernel oil, and orange peel oil.

Double Shot Face Serum, our bi-phase face serum, is formulated with hydrating superheroes like niacinamide, hyaluronic acid, squalane and avocado oil and infused with extracts with ayurvedic properties like tumeric, tulsi, and neem. It is the ultimate pick-me-up for dry or dehydrated skin. In addition to delivering an instant burst of moisture, Double Shot also has a plumping and calming effect to make your skin (and you) extra happy every time you use it. Plus, it never gets old to watch the naturally occurring colors magically separate again.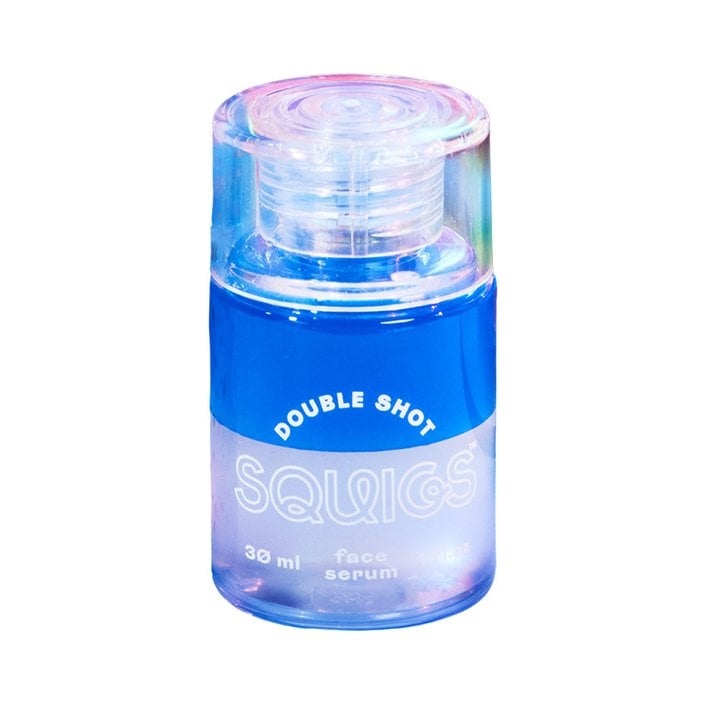 Both products are formulated without synthetic fragrances — why was this important to you?
Both of our products are actually formulated without both synthetic fragrances and dyes! This was very important to me because I have super sensitive skin and my husband has eczema. Oftentimes while testing out products for work, I'd end up causing an allergic reaction because of certain ingredients, and the more I learned about the transformative power of good ingredients, the clearer Squigs mission became — and the more it started to encompass.


How has your career as an editor helped you in your journey as a beauty brand founder?
I feel like my career as an editor led me to discover that there was a major white space within the beauty world when it came to a brand rooted in Ayurveda that still felt fun and fresh. Oftentimes, minorities get pushed to the side when it comes to what "beauty" should look like, and I got so frustrated with that — especially when it came to writing about these "ideals" on a daily basis. I wanted to switch the narrative because there is no such thing as perfection and there are no miracle cures. I just wanted to feel and be happy.


How do you want Squigs to make people feel?
My whole goal with Squigs Beauty is to put you in a good mood. Everything from our name to our products to the ingredients we use and even our packaging was created to make you happy! I want people to see our products and have a smile on their faces. It's been so exciting because I've had so many people come up to me and tell me just that without me even explaining what our ethos even was.


What does the future of Squigs look like to you?
I'm really excited about the future of Squigs Beauty. We were chosen to be a part of Ulta Beauty's first-ever accelerator program which was such a major honor and milestone as a small AAPI business that has only been around for about eight months. I'm also excited to say that our award-winning Gooseberry Delight Hair Oil sold out in just three weeks at Urban Outfitters — and we're just getting started!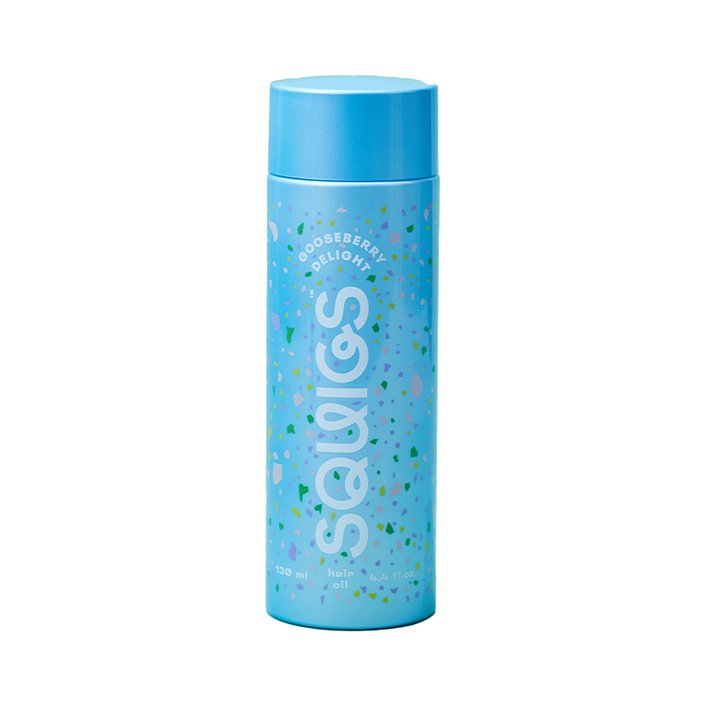 Photos Courtesy of: Squigs; Design: Juliana Campisi
Read more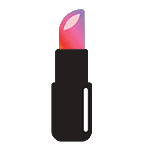 Back to top