The Best TikTok Lip Liner Hacks, According to a Beauty Editor
April 17, 2023
Social media — especially TikTok — has become a go-to destination to stay up to date on beauty tips, hacks and trends. Lip liner and lip looks in general are often the subject of these viral beauty shortcuts videos. Since lip liner can be tedious to apply, requiring plenty of focus and attention to detail, we're all for finding ways to simplify the process. Plus, certain application methods of lip liner can give you different looks.
But not all viral makeup hacks are created equal. Sometimes the steps are a lot harder to execute than they seem in the video. Or maybe the supposed hack ends up being way more time-consuming and effortful than your typical makeup application. We don't want you to waste your time on overrated beauty trends and tricks, so we're sharing our three favorite TikTok lip liner hacks, ahead.
The Best TikTok Lip Liner Hacks
Cherub Lips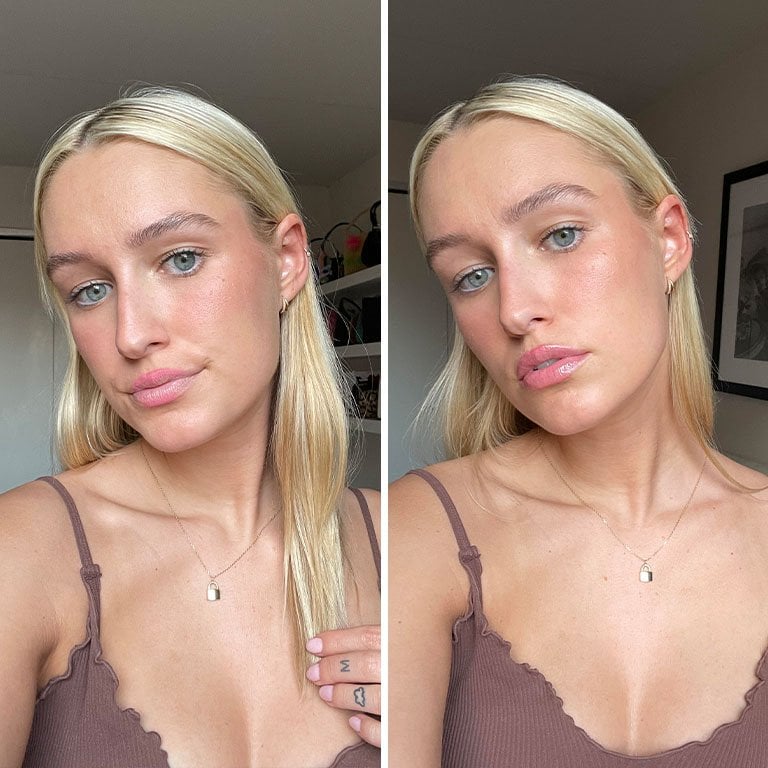 Coined by makeup artist Ehlie Luna, the cherub lips look involves concentrating your lip liner at the center of your top and bottom lips to create a plumper, fuller effect. As Luna demonstrates in this TikTok, the way to try the cherub lip is to take your preferred lip liner to your cupid's bow and shade it in straight across, ignoring any dip or crease you may have. You'll continue to shade in along your upper lip on either side of the cupid's bow, eventually merging the line back down to meet the natural outline of your lips. Then, do the same thing on the bottom lip, shading in and overlining at the lowest part of your lip and continuing the line into the natural outline of your lip. Fill in the rest of your lips with the lipstick or gloss of your choice.
The goal is to give you a pouty doll-like lip, which is very in keeping with the coquette aesthetic dominating fashion and beauty this season. I loved the way this look turned out. You can recreate it with any liner and lip color combo, but I opted for a rosy pink lip liner and ultra-shiny clear gloss, like the NYX Professional Makeup Fat Oil Lip Drip in My Main, to play up the angelic vibes.
Oval-Lining
Oval-lining (not to be confused with over-lining) is similar to cherub lips in that you focus on the highest and lowest points of your lips with your liner. However, instead of lining your entire mouth, you draw an oval shape in the center of your lips, or two connecting arcs on your top and bottom lip. As with cherub lips, you're going to get a more rounded, pouty finish than if you were to outline your lips following their natural shape.
This hack starts the same way as the first one — by ignoring the dip in your cupid's bow and filling it in with a slightly rounded shape. About halfway to the outer corners of your lips, bring the line down so you have a small arch accentuating the fullest part of your top lip. Do the same with your bottom lip, connecting the top and bottom lines to form an oval. (You may need to clean up the line with a cotton swab, like TikTok user @stxph.h did.)
I drew my oval using the Urban Decay 24/7 Glide-On Lip Pencil in 1993, a medium brown shade. Again, I topped it off with a coat of clear gloss, tracing and filling in the oval shape, then tapping with my fingers to blend the color out towards the outer corners of my mouth.
Pressing Lips Together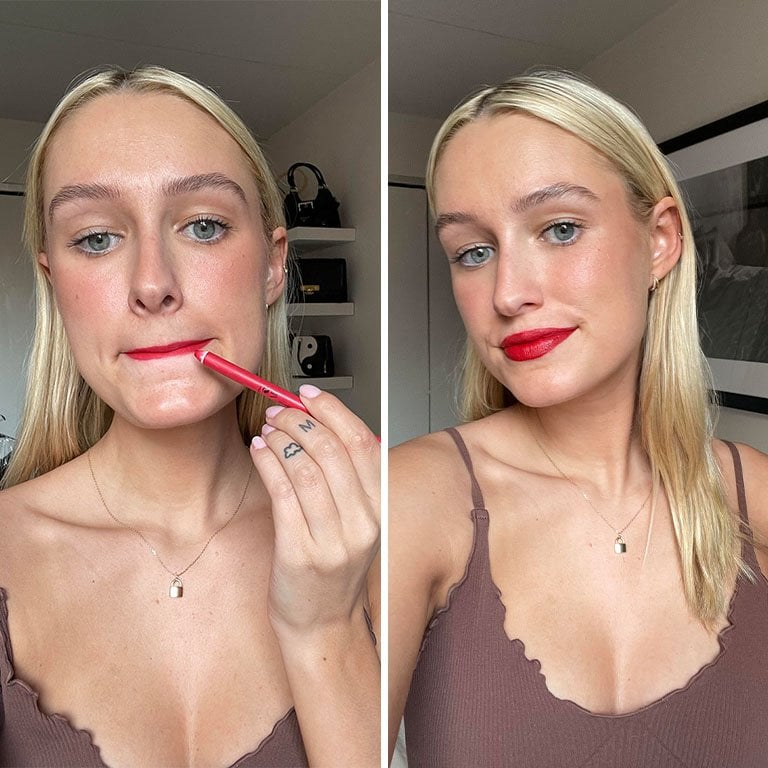 Just like tightlining your waterline with eyeliner, this hack allows you to get a super precise, tight, lip-hugging line with your lip liner. To try the technique, popularized by TikTok user @lera_valesta in this quick, easy tutorial, press your lips together to form your mouth into a perfectly thin, straight line. This makes the skin on and around your lips taut, so lip liner glides effortlessly across it. It's also helpful for lining your bottom lip, which can sometimes be tricky because of shadows — especially if you have fuller lips. Use your liner to shade every exposed part of your lips when pressed into the line, then relax your mouth and fill in any remaining bare areas with lipstick or gloss. Don't forget to smack your lips together to blend and blot as a last step.
I found this hack to be particularly helpful and time-saving when doing a bold red lip. I paired the BeautyPie WonderGel x Jenna Lyons Long Wear Lip Liner in Racy with the Valentino Beauty Rosso Valentino Refillable Lipstick in Red in Love.
Photo: Jordan Julian, Design: Juliana Campisi
Read more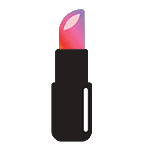 Back to top