These Are the Beauty Products Our Editors Keep on Their Desks
June 25, 2019
As beauty editors, new products are constantly crossing our desks, and we test them like it's our job — because it is. This process continues without skipping a beat until we find one that truly impresses. Then, it sticks with us and becomes one of our new go-tos. When we're not hoarding these holy grails in our personal beauty stash at home, they're most likely sitting on top of our desks for all the world (read: office) to see. If you've ever been curious what a beauty editor keeps within arm's reach for midday touch-ups, take a peek at five of our editors' desk/vanity set-ups, ahead.
Tembe, Associate Editor
I like to think of my desk as my space to touch-up and get it together throughout the day, so everything on my desk is either already in my routine or a product that helps to refresh what's there. Front and center is my Garnier SkinActive Micellar Water in the All-in-1 Mattifying formula, which helps to cleanse and remove makeup. I tend to use it to wipe away swatches from testing new shades throughout the day, but it's a great way to refresh my skin if I need to reapply, too. I also keep Maybelline New York SuperStay Foundation and SuperStay Matte Ink Liquid Lipstick and NYX Professional Makeup Love You So Mochi Eyeshadow Palette on my desk. They're my go-to's if I have any after-work events. The products that get the most use are definitely my Lime Crime Wet Cherry Gloss in Extra Poppin' — a clear shade that's comfortable and delivers lots of shine — and my Baby Tress Edge Styler Brush, which is great for slicking and swooping my edges on the go.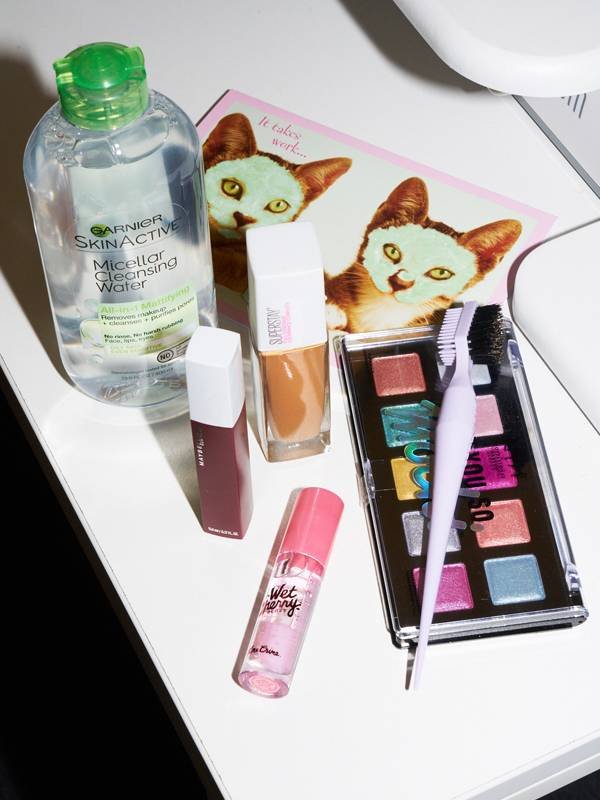 Alanna, Associate Editor
Anything with pretty packaging usually finds its way front and center next to my keyboard, but I always make sure I'm vetting these products to make sure that they're just as good on the inside as they are on the outside. Right now, both the new Malin + Goetz Advanced Renewal Moisturizer and the YSL Top Secrets Instant Matte Pore Refiner have taken up permanent residence on my desk and in my routine. I also always have a variety of lip colors at work, including the new NYX Professional Makeup Filler Instinct Lip Polish in Cheap Fills and the Lime Crime Plushies in Milk Tea. And then, I have three staples that simply never leave my desk: the Maison Margiela REPLICA Fragrance Filter in Glow, the NYX Professional Makeup Matte Finish Setting Spray and the Milk Makeup Highlighting Stick in Lit. These few are hard to come by and pretty irreplaceable on the daily. They are always there for me if I need a punch of citrus scent, a shine-free beat or an extra sparkle for highlight.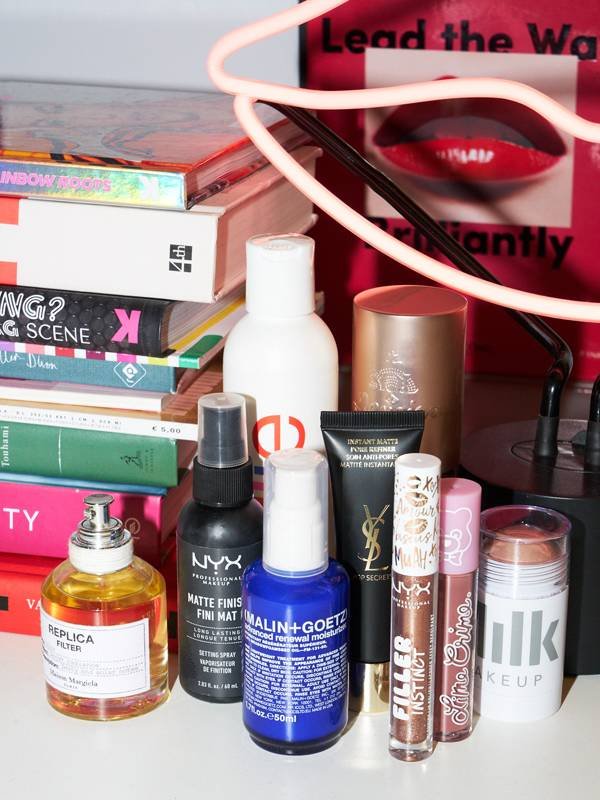 Jessica, Assistant Editor
Be it a mid-afternoon photoshoot that has me removing my entire face of makeup or a desire to test a new product that just hit my desk, I like to keep a few of my favorite products on hand for touch-ups throughout the day to ensure I look fresh for after-work events and happy hours with friends. In the face department, you'll find IT Cosmetics CC+ Cream Oil-Free Matte with SPF 40 for when I need to redo my foundation, NYX Professional Makeup HD Photogenic Concealer Wand for concealing, well, everything, and Dermablend Loose Setting Powder in cool beige to keep it all in place and beat that T-zone shine. For a quick swipe of lip color, I keep Maybelline New York Made for All Lipstick in Mauve for Me and Urban Decay Vice Lipstick in Naked on hand. Last but certainly not least, I wouldn't be able to go a single day without a few spritzes of a facial mist. My obsession is real for Caudalie Beauty Elixir, a multi-purpose mist that sets makeup, tones and boosts radiance.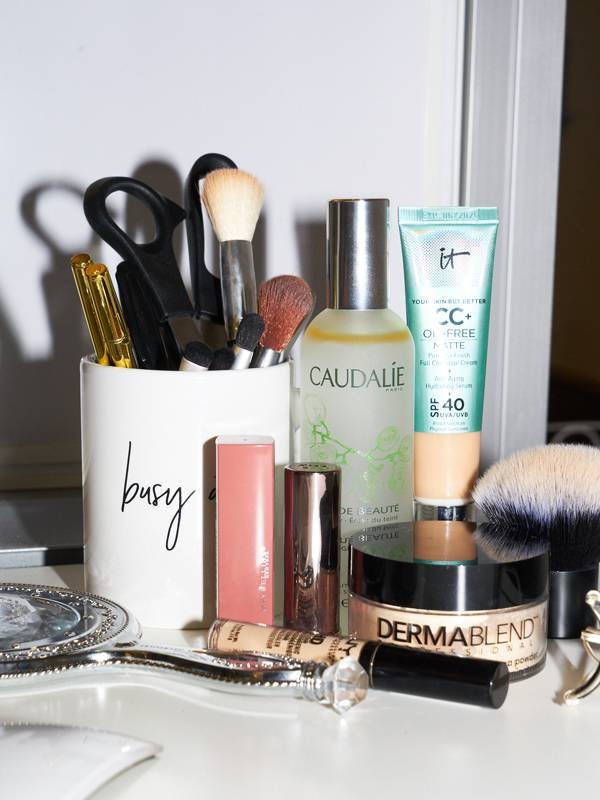 Marisa, Associate Editor
Hoarding makeup and skin-care products on my desk is totally unavoidable as a beauty editor, but I don't just do it for the fun of it. If it makes its way onto my desk, it's because it's something I can't live without using (or staring at) daily. My current must-have products for midday pick-me-ups include the Byredo Rose Hand Cream to soften my hands and let off the most relaxing rosy scent ever, the Follain Lip Balm for silky, addictive hydration, the lilah b. Aglow Face Mist for instant glow and the Glamsquad Ah-Mazing Setting & Hydrating Mist for when I'm starting to get dangerously sleepy. As for the products that I use when I want to elevate my makeup look (say, right before a post-work happy hour), I rely on Charlotte Tilbury Flawless Filter to highlight and brighten my undereyes, red Lancôme lipstick from the Camila Coelho collection and latest buzzy eyeshadow palette on rotation. Right now, I've been creating looks using the Stila After Hours Eyeshadow Palette.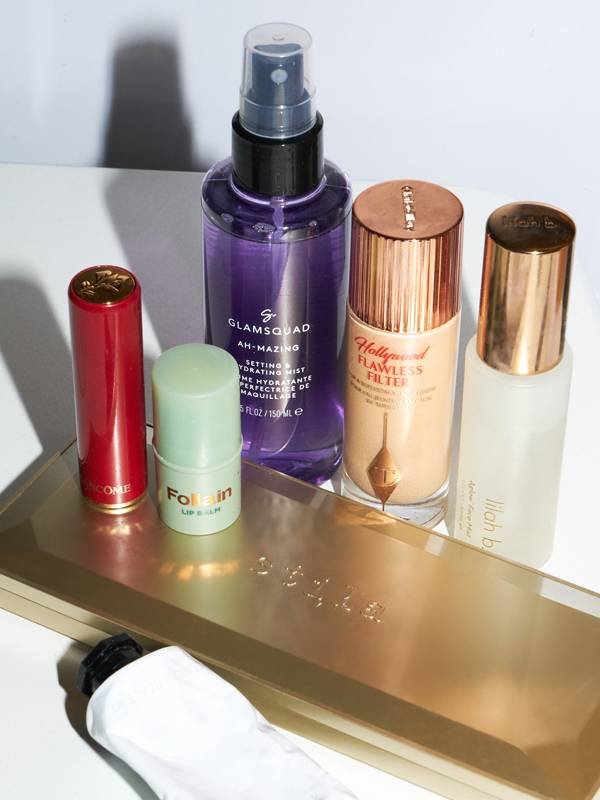 Jillian, Social Media Editor
When it comes to my personal makeup and skin-care stashes, I tend to be a major hoarder and constant product tester, but at my desk, I tend to stick to the essentials. My most-used product is Elizabeth Arden White Tea Eau de Toilette for days I need a scent refresh or forget to apply perfume before I leave the house. For my face, my eternally dry skin constantly needs hydration, so I keep not one, but two moisturizers with me: Vichy Aqualia Thermal Rich Cream and Pixi pHenomenal Gel. Every time I touch up on moisturizer, I also touch up my SPF with Kiehl's Super Fluid Daily UV Defense SPF 50+ (always wear your sunscreen!). On the makeup side, I'm usually attending an event or meeting up with friends after work, so I make sure to keep IT Cosmetics Bye Bye Under Eye Concealer and two shades of Maybelline Made For All Lipstick, Red-For-Me and Spice-For-Me, on my person at all times, so I can dress up for the occasion.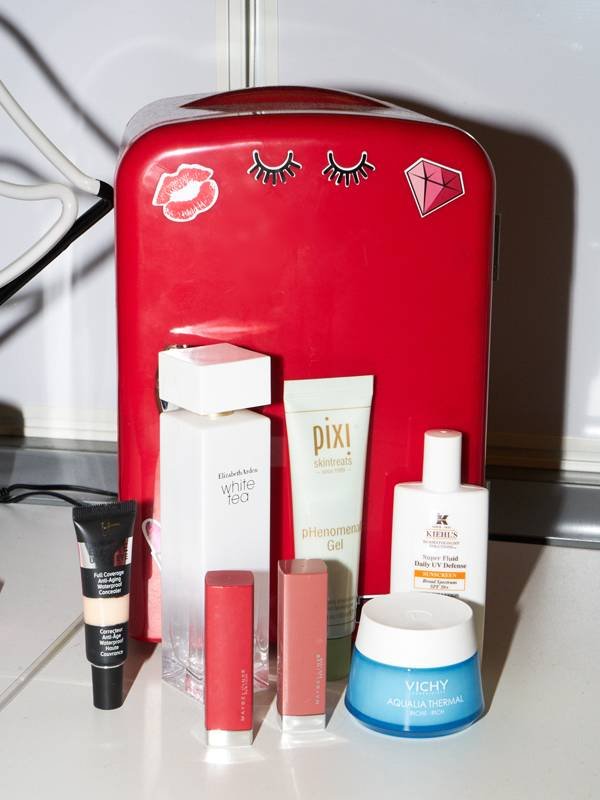 Read More:
Man vs. Machine: Does the Lancôme Shade Finder Provide a Better Foundation Match Than a Beauty Advisor?
See What Maybelline Mauve For Me Lipstick Looks Like on 6 Different Skin Tones
5 Lip Palettes You Can Mix and Match to Your Heart's Content
Read more