Chrome Nails Are Everywhere — Here Are Some of Our Favorite Designs to Try Now
September 21, 2023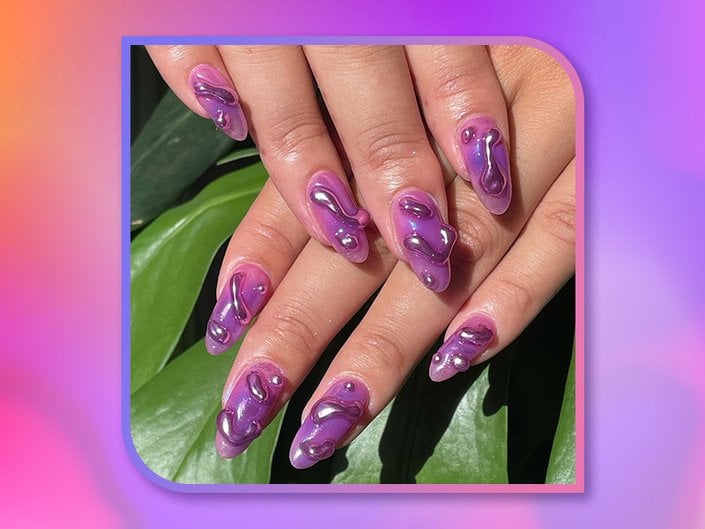 Spend a minute or two scrolling through beauty content on TikTok or Instagram and you're bound to find countless people showing off their chrome nails. The metallic mani trend first gained popularity last year and has undeniably proven that it is here to stay. In fact, chrome was one of the biggest nail trends we saw this year at New York Fashion Week. From chrome French tips to 3D metallic drips, we spied tons of variations of the futuristic look backstage.
If you haven't tried the trend yet or you're just looking for creative new ways to customize your chrome claws, keep scrolling because we're sharing some of our favorite chrome
nail designs
on Instagram. Trust us: You won't be able to take your eyes off some of these sets.
What Are Chrome Nails?
If you spend any time on beauty TikTok, you have definitely come across chrome nails before. Chrome nails are defined by a signature shiny metallic finish, typically over a solid base. Since the trend took off, it has been adapted into countless designs and nail art ideas. The chrome nail look is achieved by coating nails with special chrome powder over dried or cured polish, then locking the powder in place with a top coat.
How to Do Chrome Nails at Home
Unfortunately, you can only get chrome powder at the salon applied by licensed nail technicians. But that doesn't mean you can't replicate the trendy look at home with regular nail polish. Since chrome nails have gotten so popular, some brands have started offering shimmery top coats that mimic the look. For a chrome-inspired DIY mani, try layering the pearlescent Essie Expressie FX Nail Polish in Iced Out Top Coat.
The Best Chrome Nail Designs
Chrome Swirls
Combine two trends in one by opting for a mani with chrome swirl designs. This look is equal parts simple and striking, and we love the contrast created by the matte base and the shiny swirls. If you want to replicate the look, apply two coats of Essie Cut It Out followed by the Essie Gel Couture Matte Top Coat before creating your swirls.
Chrome Accents
Add a special touch to any manicure with chrome accents. We love how the gold chrome accents in this mani pop against the rainbow colors and add a light-catching element without looking overdone.
Alternating Pastel Chrome
There's a reason that baby pink chrome is trending — it's stunning on nails. But you can take it to the next level by getting creative with a variety of pastel chrome hues. Alternate colors on each finger for a polished look with a playful touch.
Cow Print Chrome
Cow print nails are eye-catching to begin with, but put a chrome spin on them and we're obsessed. We love the chrome cowhide design on top of a milky white shade, but don't be afraid to experiment and play with color — it will make the design pop even more!
Chrome Tips
We'd be remiss not to talk about classic French tips created with chrome polish. It instantly elevates a classic
French manicure
, giving it a modern twist. And if you can't choose between silver and gold, go for both!
3D Chrome
Just like chrome nails, 3D nail designs have been a major beauty trend. We love this bold, monochrome look featuring a dripping, 3D chrome design. Make the look your own by trying it in a color combo of your choice.
Green Chrome With Stars
In this monochromatic mani, green chrome French tips serve as a canvas for pastel stars and rhinestones.
Pink Tips
In our humble opinion, pink and chrome are a match made in manicure heaven. These magenta tips are proof.
Iridescent Swans
We're absolutely mesmerized by these realistic, detailed swans. The iridescent chrome base makes the perfect background for this fairytale-inspired design.
Negative Space Textured Nails
This impressive manicure combines three different nail trends — chrome, 3D nail art and the
negative space mani
.
Chrome Shells
ICYMI:
Mermaidcore
is one of the biggest beauty trends to splash onto the scene this summer. Try it for yourself with these shiny shell nails.
Pink Chrome Heart Accent
Since pink is the unofficial color of summer 2023, we are loving pink manicures even more than usual lately. It doesn't get any cuter than this pink chrome heart accent nail.
Dripping Chrome Tips
If you love the look of long, pointed nails, you have to request these dripping chrome tips at your next nail appointment.
Lavender Chrome
Sometimes, simplicity is everything. If flashy nail art isn't your vibe, use chrome powder to add some flair to an understated pastel mani.
Pink Gradient
Gradient manicures are a fun way to elevate your basic solid mani, and we love this pink chrome take.
Square French Tips
French tips are a timeless classic because they look great in any color and on any nail length or shape. Case in point: These baby blue chrome French tips on elegant square nails.
3D Fairycore
These intricate 3D fairycore nails are nothing short of a masterpiece. Each nail features a different breathtaking design, from delicate clusters of flowers to a purple butterfly with chrome-traced wings.
Vanilla Chrome
Vanilla chrome
is the latest iteration of the chrome nail trend. The dessert-inspired mani gets its name from the creamy, off-white polish used as the base color. For an ivory shade with subtle warm undertones, we like
Essie Get Oasis
.
Embellished Stars
Attention, mani maximalists: Show this photo to your nail artist next time you're at the salon for a girly, over-the-top pink and white look. The chrome detailing is all in the white tips, but the real star of the show here is the pink and pearl star detailing.
Rainbow Chrome Aura Nails
Aura nails
have been a major trend the past few years and we love this funky reflective rainbow rendition.
Chrome Hibiscus Flowers
This pink jelly mani combines modern and tropical elements, with summery chrome hibiscus flowers adorning each nail. This is a fun manicure idea for someone with long nails because it's a perfect way to display the transparent
jelly effect
.
Chrome on Chrome
You heard it here first — there's no such thing as too much chrome. Here, the nail artist painted pink chrome stars on a neutral chrome base.
Chrome Butterflies
We're living for the Y2K vibes of these silver chrome butterfly nails. Our middle school selves could only dream of having nails this cool.
Blue Airbrush With Chrome Details
Powder blue nail polish is having a moment right now, thanks to the recent
blueberry milk manicure trend
. For a twinkly twist, go for an airbrushed effect like this nail artist's creation, and add a sprinkling of silver stars and gems.
Chrome Blush Nails
We were seeing
Korean blush nails
everywhere this winter, and we still adore the pretty, makeup-inspired look. Offset the soft pink color palette in an unexpected way by adding silver metallic details.
Read more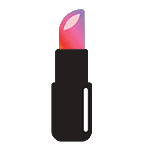 Back to top